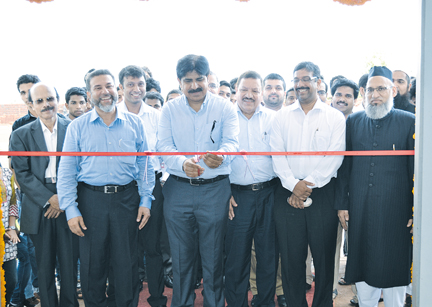 "Quality and Knowledge can lead to success along with hard work," says Syed Mohammed Beary"
"Being optimistic is vital in achieving higher levels of excellence. It is the knowledge of solving our own simple problems which will let us solve the problems of the nation and mankind" were the words of Mr. L.K Atheeq, Senior Advisor to the Executive Director at World Bank, Washington D.C. He was addressing the students after inaugurating the Research Center in the Mechanical Engineering Department at Bearys Institute of Technology(BIT), Innoli, Mangalore, last month.
He also stressed on the need for human values to be imbibed, along with technical knowledge. Mr. Atheeq emphasized that it was only with such a harmony that science and technology could be used, with simple ideas that would lead India to become a poverty-free nation
Dr. B.K. Yousuf, President of Bearys Cultural Forum (BCF) UAE, conveyed his good wishes to BIT and conferred a citation of honour on Mr. Syed Mohammed Beary, chairman of Bearys Group for his excellent contribution to the field of education.
Secretary of BCF, Dr. Kaup Muhammed, in his address , spoke about the quality in education and highlighted on five performance objectives which are- Quality, Speed, Dependability, Flexibility and Cost. Syed Mohammed Beary added that: "Quality and Knowledge can lead to success. It is hard work and commitment which is common among all those who are successful".
Dr. S.A.Khan, Principal of BIT, gave a bird's eye view of the Research activities planned in the newly inaugurated Research Center. He stressed on interdisciplinary research activities among various departments of BIT. Dr. S.K.Raiker, Sr. Advisor BIT, addressed the students and said that wisdom is the main ingredient of education. It is important to be a good human being and good citizens of India before becoming a good engineer. One of the trustees of Beary Academy of Learning, Mr. Mazhar Beary, addressed the gathering and promised to keep up the value and ethics of Bearys Group in the days to come. Prof. K.M. Sheikh Moiduddin delivered the vote of thanks. Dr. Sainath, Director of BIT campus welcomed the guests for the in his opening remarks.