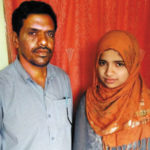 Zoha Afreen Khan, a student of Rahmaniya Urdu High School, Achalpur from Amravati district (in Maharashtra) has scored 99.8% marks and topped the Amravati division, while Sahrish Riba, a student of Anjuman Urdu High School Khamgao from Buldhana district (Maharashtra) managed to score 99%. What is even more encouraging is that both these girls want to become doctors and help the most marginalised communities of the country.
Fifteen-year-old Zoha, who is fluent in English, Urdu, Hindi and Marathi, is the eldest daughter of her parents. Her father is an Urdu teacher and her mother is a housewife. Speaking with Twocircles.net, Zoha credited her success to her parents and teachers. She said that proper guidance of teachers and the love and care of her parents gave energy to students. It helped her a lot in achieving such a feat. Informing about her future plans, she said, "I want to be a doctor and work in rural areas so that I can help people in need. I always read in newspapers that Adivasis never receive timely medical assistance. It makes me disheartened to read such news and so after becoming a doctor, my main focus will be to work for and in Adivasi communities."
Badruddin Merchant, Chairman, Rahmaniya School, lauded Zoha for achieving this feat. Merchant further claimed that Zoha is the first Urdu medium student from the state to score such high marks.