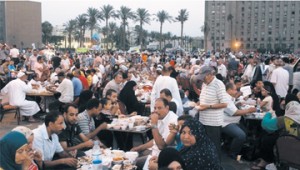 Cairo: Thousands of Egyptians gathered for a fast-breaking meal that brought Muslims and Christians together in Tahrir Square last month. The Tahrir Square has been the focal point for opponents of ousted President Mohammed Mursi, who was toppled on July 3 by the army following mass protests against him. It was also the cradle of the uprising that overthrew President Hosni Mubarak in 2011.
The unity meal came on the same day that Islamist supporters of Mursi mobilized across Egypt, holding large demonstrations in public squares in several cities.
Several thousand people came to Tahrir square in a show of sectarian unity and also to show their support for the toppling of Mursi.
The Imam who gave the Friday sermon in the square said that "today's iftar was intended to bring the country together after a long period of divisiveness. This iftar [fast breaking meal] is a national unity meal, in order for us to say that Egyptians, Muslims and Christians, make up one square and one nation. And this is an iftar to honor the blood of the martyrs and we are demanding justice for them on this Friday, so this is an iftar for the souls of the martyrs and for national unity," said Mohamed Abdullah Nasser.