After having spent many years in a busy city, Aki and Silo felt lucky to be able to live in a forest, amidst the trees and birds and animals.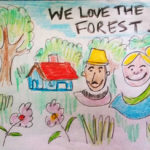 By Trinkoo 
 
Aki had worked hard at his job for many years. Then, one day he decided to stop! "I don't want to spend the rest of my life working to make money", he said to his wife. "We've saved enough for our needs."
"You're right, dear," Aki's wife Silo replied. "We can now spend our time doing things that we like."
With their savings Aki and Silo bought some land in a village, where they built a little cottage.
Aki and Silo had always dreamt of living in a forest. And their dream came true in a while! Since it wasn't possible for them to go off into a forest in some faraway place, do you know what they did? They decided to let the land they had bought turn into a forest! For this, they didn't have to do any work   at all. All they needed was to just let the land be. With ample rain and sunshine, nature took its course. In a couple of years, the land was full of all sorts of wild plants and trees. It had become a mini-forest!
Aki and Silo's forest was soon bursting with life. The flowering plants attracted many brightly- coloured butterflies and other insects.  Mynahs, crows, parrots, storks, eagles, and other types of birds made their homes in the trees. Frogs lazily swam about in the little pools created by the rains. Occasionally, if you were lucky, you could spot a mongoose, or a family of monkeys, or even a tortoise!
After having spent many years in a busy city, Aki and Silo felt lucky to be able to live in a forest, amidst the trees and birds and animals. They would get up just before dawn, and, after their morning prayers, would sit on a bench and sip their tea and enjoy the quiet. They never got tired walking around the forest, enjoying its sights, sounds and smells. Sometimes, groups of school children would visit them to learn about the forest and the wildlife that lived there. They loved to take them around. They were very happy to help them learn how wonderful it is to live amidst nature.
One day, Rima, a friend of Aki and Silo's from the city, dropped in to meet them. He was a big and busy businessman, who wanted to make a lot more money than he already had.
"You're a fool," Rima said to Aki over lunch. "You've got this large piece of land and you aren't earning even a rupee from it! What a waste! If I were you, I would have turned the land into an orange orchard or spice plantation. You could have made a lot of money that way, you know. You could even sell the land to a hotel and become a millionaire!"
"And what would I do with all that money?" Aki asked.
"Hmmm…" Rima stuttered and fell silent, not knowing what else to say. "Okay," he added after a while, "Maybe you could use the money to buy things that would make you and Silo happy."
"But we are already happy!" Silo interrupted. "Rima, You won't believe how very happy we are being in this forest!"
"Yes, yes!" Aki exclaimed. "We don't get any money from the forest but we do get a lot of happiness from it. And that's what's really important, isn't it?"
"Hmm…I guess what you say makes sense," Rima answered,  realising that Aki and Silo were right!