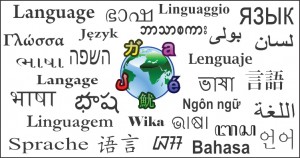 English is spoken in 57 countries, French in 33 countries, Arabic in 23 countries, Spanish in 21 countries and Portuguese in 7 countries.
But the Mandarin or Chinese is the language spoken by largest number of people i.e., 87 crore. People who speak English are 30 crore which is less than those speak Spanish i.e., 32 crore. Arabic is spoken by 24 crore.
Among the Indian languages, Hindi is spoken by around 20 crore people, but nearly half the Indians can speak and around half of those who are educated in India can use the Hindi language as it is part of the 3-language formula in several states of India. Nearly 60% Indians can understand Hindi and hum Hindi songs.
Even Punjabi is spoken by almost 15 crore people, but majority of them are in Pakistani province of Punjab.
But Bengali, another Indian language Bengali has almost equal number of speakers. Nearly 18 crore people speak Bengali, but more than half of them are in Bangladesh.