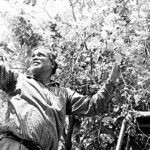 Hyder Ali Khan of Kalyangiri in Mysuru
Mysuru: Thandi Sadak in Haldwani, Uttarakahand, is famous for lush green trees and pleasant breeze. Here in Mysuru, a man is on a mission  to make the Ring Road as the city's Thandi Sadak. It started with one Honge tree sapling at Idgah Maidan 16 years ago. Now for Hyder Ali Khan of Kalyangiri, life's sole aim is to plant as many saplings as he can.  Khan has already created a green canopy in several schools and public parks by planting nearly 2,500 saplings and is knocking at the doors of the government for help to increase the green cover in the city. He plans to plant the saplings of certain selected trees on the stretch of the Ring Road beginning from the Mysuru-Bengaluru intersection.
In the initial stage, he wants to plant 925 saplings in the one-km stretch. "A green canopy can be created on the highway which benefits motorists immensely. If I get permission from the government, I intend to plant wild Almond Trees (Kaddabadami) along the one-km stretch of the Ring Road. It takes four years to complete the project. If we can do this, Mysuru will become a role model for other cities and towns in the country," he said. "I had worked as a fitter for 27 years. One day, when I got exhausted while riding my bike, I sat beneath a roadside tree and felt immensely relaxed and rejuvenated. It was then I decided to plant trees. Nothing gives me more satisfaction than planting trees," he said.