Muhammad Zafar Ibrahim, 9th grade student at Presidency School, R. T. Nagar,
Bengaluru recently went to the US to visit Kennedy Space Center.
He recounts his experiences of the visit.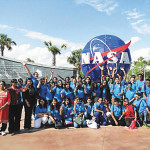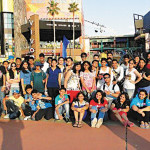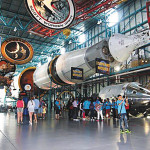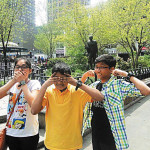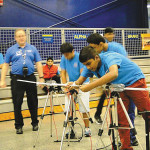 It was a sunny day when our group of 30 students from the Presidency Groups of Schools took off from Bengaluru International Airport on an Ettihad flight. We landed at John F. Kennedy (JFK) Airport of New York on April 26 at 9-30 am. We had been invited by the Kennedy Space Centre at Orlando, Florida on a study tour. We took a flight to Miami from where we were driven to Orlando on a bus that took five hours.
We were 19 boys and 11 girls accompanied by four teachers. It was another world altogether. The highways were broad, no honking of horns and no smoke from the vehicles. We drove through lush green scenery, lakes and beaches, and were lodged in Hampton Inn hotel in Orlando for the next four days.
Hall of Fame
We arrived at Kennedy Space Center on the first morning. Astronaut Charles Walker addressed us.. He told us his experience in zero gravity. He said they were given packed food which had to be injected with water and heated on the microwave oven. The second day was spent visiting the Museum at the Center where the Hall of Fame had pictures of all the astronauts, their dresses and badges. We were given assignments to make rockets out of pipes, clamps and launch them. One, Mary was our tour guide. We were taken to zero gravity room where we bobbed up and down, made giant hops and collided with each other but were not hurt.
By the time we came out of the Museum, we were pretty hungry and thirsting for Indian food. Our kind guide took us to an Indian restaurant where we had Indian style mutton curries, steamed rice and raitha. We spoke to the restaurant owner Rajveer who spoke to us in Hindi.
The third day was spent sightseeing. We even watched a 150-minute movie on American Space History. At the end of it we had the thrilling experience of simulator of a space craft where we experienced countdown, the room turning full 90 degrees, engines coming alive at the count of five and then real space vibrations. As the spacecraft (although we did not leave the ground) cruised through the space, we watched the earth, a bluish-green ball in distance. We were taken to Florida beach too where the film Men in Black-3 was shot.
Our next port of call was Disney World where a number of dreadful and scary rides almost wrenched the life out of us. We saw a giant Spiderman whacking the Goblin.
 We arrived in the Washington DC on the fifth day of our tour and stayed at Hilton Springfield Hotel in Virginia, a state just adjacent to the US capital. We were taken to Smithsonian Museum and outside the White House. While roaming around the White House, we had the good fortune of seeing President Obama alighting from his helicopter. He waved at us from the distance and went inside the White House. We also visited the Memorial Park where we paid respect to martyrs of American War of Independence. The park had men engaged in hand combat carved out of stones.
Empire State Building
We bid a good bye to Washington DC and took a bus to New Jersey. The bus passed through a tunnel inside the Hudson river between NY and NJ. In New York we had a full deck booked on a river cruise to go to Statue of Liberty. Thereafter we went to Empire State Building and climbed to the 86th floor in a lift that crossed ten floors in five seconds. The sight from the Empire State Building was breathtaking. Binoculars fixed at the floor provided us 360 degree view of New York where tall skyscrapers were spiking clouds.
 We again saw President Obama landing on NY riverfront from his helicopter and his presidential limousine passing by us. Our bus driver had this interesting comment to pass: "The President was keenly pursuing us and wouldn't let us off."
 Next hour took us to Hershey's Chocolate Factory where a roller coaster took us around the factory. We saw chocolate fountain bubbling in the middle. We were asked to make our own chocolate. We mixed up too many ingredients and the outcome was awful. We were also taken to theme park in Universal Studios.
 At the fag end of the trip, we were taken to the Fifth Avenue of New York, the most fashionable bazaar in the City. We purchased items of gifts for our siblings, came back to hotel and took the Ettihad flight out of JFK Airport next morning. Soon after the flight took off, the day changed into night at a particular point. Around twenty hours later, we landed at Bengaluru after a changeover of flight in Abu Dhabi.
—————————————
(Zafar is son of Tanveer Anjum and Sameena Banu, both Engineers).   
As told to Islamic Voice