S. Indian Muslim NGOs Meet on March 10
Bangalore: The second South India Conference of Muslim NGOs will be held on March 10, Sunday at Feroze Terrace Garden on Cunningham Road between 9-30 am and 6-30 pm. The conference is being co-sponsored by Beary's Group and Shaheen Talent School. The conference theme is 'Role of NGOs in Reaching Government Schemes to Masses'. The conference will discuss Knowledge- sharing on Government schemes and their utilization, networking among participating NGOs across South India, and plan of action for NGOs to take forward the learning. It will also witness launch of Lead Talent search exam 2013 and CIGMA-Minority One Centre. People desirous of participating may register by paying a fee of Rs. 200. Registration can be downloaded from www.cigma.in or contact Cigma Foundation, 29-R.V. Road, Basavanagudi, Bangalore-560004, Ph: 080-41554225, 80500-67687.
Discussion on 'Bank Interest, Usury and Riba'
Bangalore: The Centre for Contemporary Studies will hold a Discussion on "Riba, Usury and Interest and the Quranic Ethics" on March 17, 2013, Sunday at Indian Social Institute, 24-Benson Road, Benson Town, Bangalore-5600046 between 9-30 am to 4-30 pm. The Discussion will centre around the Bank interest, its applicability in the current era in the changed context of presence of intermediary financial institutions and monetary economics. Participation is by invitation. Those desirous of participating may contact, Mr. M. A. K. Tayab, (IAS Retd), Convener, Centre for Contemporary Studies, Ph: 080-25527409.
Consulate General of Iran Visits Al-Ameen Campus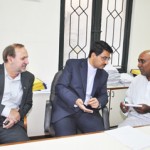 Bangalore: The Consulate General of Iran in India, Hasan Noor-Aien visited the Al-Ameen campus here in Bangalore on February 22. He said that India is far ahead both technically and educationally. Before India's Partition, India and Iran were neighbors and these bonds continue to flourish. "We look forward to greater interaction in the field of science and technology and in higher education. There was a tripartite agreement and a joint technical committee which was working between Iran-Pakistan and India. Iran on its part has completed the task of laying the gas pipeline till the Pakistani border and even the Pakistani technical team has assured that the pipeline passing through its soil will be completed by the end of 2015. But now the Government of India wants the pipeline to have an alternate route which is the sea-route", said Hasan Noor.
(Reported by Azmathulla Shariff)
Vachanas in Urdu
Bangalore: The translated versions of Vachanas of the famous 13th century saint Basaveshwar were released by Vice President Hamid Ansari on Feb. 14 in Bangalore. The Vachanas have been translated into twelve languages simultaneously by the Basava Samiti in Bangalore. The Urdu translation was carried out by noted Urdu author and English lecturer Maher Mansoor. The translation of nearly 2,500 vachanas from Kannada is now available in a single 1,200 page volume. Saint Basaveshwara was born in Basavakalyan in Bidar district and devoted his life to end casteism and other social evils and raising a morally upright society.
Tipu's Tomb
Mysore: The KSRTC has introduced regular bus service from Srirangapatna bus stand to the Gumbaz, the mausoleum of Tipu Sultan from February 1. The buses on route no. 113 will run every half an hour from the two ends between 8-15 am to 7-15 pm. There has been a long standing demand to connect the mausoleum from the bus stand as several visitors were put to inconvenience due to absence of public transport.
Seminar on Sachar Report: The BET Sadatunnissa Degree College for Women and Karnataka Urdu Academy will jointly organize a one-day seminar on 'Sachar Committee Report and Its Implementation' at the College premises in Bismillahnagar, Bangalore-29 on March 3, Sunday at 10 am. Union Minister for Minority Affairs Dr. K. Rahman Khan will inaugurate, while Naseer Ahmed MLC will be the guest of honour. Mr. B. H. Anil Kumar, Principal Secretary, Minority affairs, Hajj and Wakfs, Govt. of Karnataka and Roshan Baig, MLA will be chief guests.
Bio-gas Plant Commissioned
Ramanagram: The Bio-gas Plant of the Ghousia Engineering College was commissioned on February 9 by Al-Ameen Educational Society chairman Dr. Mumtaz Ahmed Khan. The plant would produce biogas out of the perishable trash generated from the college mess which serves food to 350 students everyday.
Institute of Islamic Studies Inaugurated
Hoskote: K. M Fareed Institute of Islamic Studies and Research Centre was inaugurated at Al-Ameen Campus in Hoskote on February 2, by the Vice Chancellor of Tumkur University, Dr S. C. Sharma. The institute will have a collection of rare books, manuscripts and biographies in English, Arabic and Urdu. It will also act as a catalyst for researchers and scholars from all over the globe.
New Stadium Opened
Vaniyambadi: The 95-year old Islamiah College, an autonomous college under the University of Madras, opened its Indoor Stadium and the new administrative block on Feb. 11. The stadium named after Sir Syed Ahmed Khan was inaugurated by Kaka Md. Zubair, managing trustee of the Vaniyambadi Muslim Education Society. The administrative block was opened by noted industrialist, Chairman, Farida Group of Industries Mecca Rafeeque Ahmed. Mr. Ahmed urged the Society to start new market-oriented courses such as Bachelor of Architecture in order that the youth could gain employment in the expanding market.
Conference on 'Status of Muslim Women'
Hyderabad: An International conference on Status of Muslim Women in the Indian Subcontinent will be held at the Maulana Azad National Urdu University, Gachibowli, Hyderabad on March 6 to 8. It is being convened by the Centre for the Study of Social Exclusion and Inclusive Policy (CSSEIP). Participation is by invitation. Convener Farida Siddiqui in a press note said the conference will have global implications in the context of the role of women in the Arab Spring and current ideological debates around women's inclusion in every sphere of their life in the world. Academicians and NGOs can register themselves by paying a delegate fee of Rs. 1,000. For students the fee is Rs. 500. For details contact: Farida Siddiqui, email: [email protected]
19 clear Civil Services Main
Nineteen candidates coached at the Crescent Academy, New Delhi were selected at the Mains of the Civil Services Exams this year and will be appearing for the interview, informs a press note for the Academy. The Academy is a division of the Maulana Abdur Rahim Educational Trust. The note said, till date, the Academy had been able to produce 80 officers for the various civil services besides judges and state level civil service officers during the last ten years. It can be reached by Phone: 011-26961419 or 98918-38808 [email protected] in Delhi, and (0571) 2421251, 2700458 (R) in Aligarh.