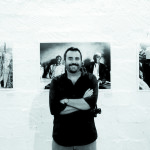 Istanbul: Using art to raise awareness about the oppressed Rohingya Muslims, an American award-winning photographer Greg Constantine held an exhibition in Istanbul to offer insights into the plight of the Muslim minority in Mynamar.
Titled, "Exiled to Nowhere", the exhibition displays a collection of photos reflecting the suffering of Rohingya Muslims in the Buddhist-majority country.
"Inside Myanmar, the conditions the Rohingya live in are quite like apartheid. They are confined to one geographic area; they can't come, they can't go. They receive very little medical assistance and education for their children," Constantine told Anadolu Agency. Gathered from Constantine's 12 visits to Burma, the exhibition was previously held in Washington, Bangkok and Geneva to shed light on persecution and abuse faced by Rohingya Muslims.
Starting his first visit to Rohingya communities in Myanmar's volatile Rakhine state in 2006, the American photographer later made eight subsequent trips to the area.
"I was so shocked by the situation that the Rohingya were living in there," says Constantine, accusing the international community of paying little attention to the community. The exhibition is currently being held at Galata Fotografhanesi in Istanbul's Beyoglu district.