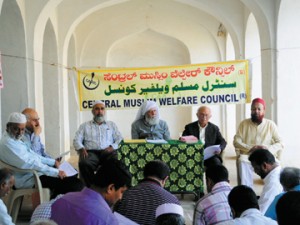 By A Staff Writer
Mysore: The Central Muslim Welfare Council here disbursed micro-loans to the tune of Rs. 24.44 lakhs during the past financial year ending on March 31, 2012 among over a thousand men and women engaged in petty businesses. The Council general secretary Syed Zaheer Ahmed told the fifth session of the general body held on 6th January at Gumbaz in Srirangapatna that the council is maintaining five centres for loan disbursement in Azeez Sait Nagar, Shantinagar, Momin Nagar, Ganjam and RGA School. However, 175 beneficiaries turned out to be defaulters. He said those who have improved their financial turnover and thereby requiring bigger loan amounts were being shifted to Janaseva Credit Cooperative Society in the city. He said the expenses on running the facility at five centres were eroding the capital base and appealed for generous donations.
The Council provided scholarships to 85 students pursuing BE, Diploma, B.Ed, PUC, D.Ed., and studies in high school with Rs. 2.95 lakh received through donations. It also ran coaching classes for SSLC failed students for 142 students. Of these eight secured distinction, 32 secured first class and 97 passed the exam. The Council spent around Rs. 64,000 on the project. Md. Idriss and Prof. N. A. Mohammad Naseem conducted the coaching classes for 26 days. The Council awarded Rs. 11,000 to Md. Saad who secured 99% marks in Science paper in the SSLC exam. Nine other students were given Rs. 1,000 each for distinctions in SSLC. Two teachers, Niyaz Pasha and Rabia Basri were presented Rs. 12,500 each for producing excellent SSLC results.
Presiding over the general body meeting, Prof. Sheik Ali, former vice chancellor of Mangalore and Goa Universities, exhorted the members to take education and awareness to the grassroots of the Muslim society. Special guests Mohammad Ismail from the United States and journalist Maqbool Ahmed Siraj asked the members to expedite the pace of social change among Muslims. The Council was formed in 2007 and has 75 members. A general call was given for enhancing the membership. Prof. Qudratullah Baqvi conducted dua at the conclusion of the programme.