Hunger is still 'serious' in India, although the country has improved; Pak lags behind India; B. Desh and Nepal have done better.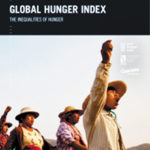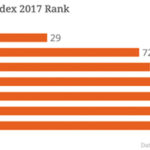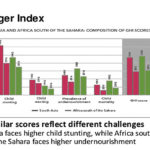 What is Hunger?
Hunger is usually understood to refer to the distress associated with lack of sufficient calories. The Food and Agriculture Organization of the United Nations (FAO) defines food deprivation, or undernourishment, as the consumption of too few calories to provide the minimum amount of dietary energy that each individual requires to live a healthy and productive life, given his or her sex, age, stature, and physical activity level.
The right nutrition during the first 1,000 days of a child's life will improve her or his physical and cognitive development and ability to learn in the future.
The hunger situation in India is still "serious", notes the Global Hunger Index, 2017, a report prepared by the International Food Policy Research Institute.
India ranks 100th on the list in ensuring food security for its peoples, placing it in the high end of the "serious" category. Not only that, India lags even in its own neighbourhood.
India is easily the most dominant country in South Asia. While this translates into influence and power for the Union government, Indians themselves seem to have not benefited much from this. India's supposedly weaker neighbours do a much better job of feeding their citizens. The only country India manages to beat is Pakistan which is placed at 106th slot.
The Report looks at 119 countries.
Of these, one falls in the 'extremely alarming' range on the GHI Severity Scale; 7 fall in the 'alarming' range; 44 in the 'serious' range; and 24 in the 'moderate' range. Only 43 countries have scores in the 'low' range. In addition, 9 of the 13 countries that lack sufficient data for calculating 2017 GHI scores still raise significant concern, including Somalia, South Sudan, and Syria.
Parameters
GHI scores are based on four component indicators""undernourishment, child wasting, child stunting, and child mortality. The 27 percent improvement noted above reflects progress in each of these indicators according to the latest data from 2012″"2016 for countries in the GHI:
The share of the overall population that is undernourished is 13.0%, down from 18.2% in 2000.
27.8% of children under five are stunted, down from 37.7% in 2000.
9.5% percent of children under five are wasted, down from 9.9% in 2000.
The under-five mortality rate is 4.7%, down from 8.2% in 2000.
The regions of the world struggling most with hunger are South Asia and Africa south of the Sahara, with scores in the serious range (30.9 and 29.4, respectively).
Alarming
Eight countries suffer from extremely alarming or alarming levels of hunger. These are Yemen, Central African Republic (CAR), Chad, Liberia, Madagascar, Sierra Leone, Sudan, and Zambia. Except for Yemen, all others are in Africa. Many of these countries have experienced political crises or violent conflicts in the past several decades. CAR and Yemen, in particular, have been riven by war in recent years.
Among the countries around India, China is the best at 29, Nepal is placed at 72nd position, Myanmar 77, Sri Lanka 84, Bangladesh 88, India 100 and Pakistan 106.
However, India has been faring better in reducing hunger, but other countries have been doing better than India in comparison. While the planet has reduced hunger by 27% since 2000, the corresponding number for India is only 18%. In 1992, India was ahead of two countries, Myanmar and Bangladesh in combating hunger. In the past 25 years, however, both these countries have managed to make greater strides than India. So much so that Bangladeshis and Burmese are today better fed than Indians.
Pak Doing Worse
If it's any consolation, the one country even worse governed than India in that time period is "" unsurprisingly "" Pakistan. Pakistan actually had a better score than India in 1992. But in two and a half decades, it slipped behind India to become New Delhi's most malnourished neighbour.
Distressing
Twenty one per cent of Indian children suffer from wasting, that is, have a weight lower than normal for their height. Only three other countries in the world have worse statistics for child wasting than India. Moreover, India's child wasting numbers have actually got worse since 1992, increasing from 20% to 21% in 2017, making it a laggard in South Asia.
Nearly 40% of Indian children are also stunted (have low height for their age) due to hunger "" better than only Pakistan in the neighborhood. India's under 5 mortality rate is 4.8%. Amongst its neighbours, only Myanmar and Pakistan are worse.
Why does India do so badly in feeding its children? While India has implemented two large-scale national programs that address nutrition "" the Integrated Child Development Services and the National Health Mission "" but these have yet to "achieve adequate coverage", says the report.