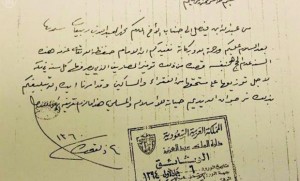 Riyadh: A historic letter unveiled recently reveals that the late King Abdul Aziz had stopped leading the government's Haj missions for six years so that the money saved could be donated to the poor, particularly those who could not afford to perform Haj. The letter also shows that he personally supervised Haj efforts and led the government's Haj missions during his reign. Professor Omar bin Saleh Al-Omari, supervisor of the King Abdul Aziz Chair for Kingdom History Studies, said the details of the King's actions are contained in the letter.
"The late Prince Abdullah Al-Faisal wrote a letter to an official in November 1941, when he was then governor of Qassim, delivering King Abdul Aziz's apology that he would not personally lead Haj that year. The letter carried his orders to distribute Haj expenses to the poor," said Al-Omari.
The letter states: "In the Name of Allah, Most Beneficent, Most Merciful. From Abdullah bin Faisal to brother Muhammad Al-Abdullah bin Rubayan, peace be with you. We inform you that the Imam (King Abdul Aziz) will not perform Haj this year to save annual expenditure in Makkah for distribution to the less fortunate. He ordered that we deliver this message to you". Many other historic documents have also shown the philanthropy and compassion of King Abdul Aziz for his people and pilgrims. He assigned a physician at every foreign Haj mission in 1926. Three years later, he set up a school to educate and train Haj "tawafa" guides.