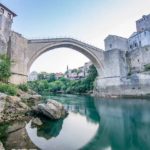 The three-year Bosnian War some years ago killed around 100,000 people and displaced a million more. Although ethnic and religious violence tapered off after the peace treaty of 1995-96, deep cultural and religious divides remain. Now, a historic master's program has been created in Sarajevo, capital of Bosnia and Herzegovina, that primarily focuses on Interreligious Studies and Peace building, taught by the three major theological seminaries of Catholic, Islamic and Orthodox thought. "This program represents efforts of the three faculties to work, on a scientific basis, on peace-building and reconciliation in this country," said Darko Tomasevic, the dean of the Catholic Theological Faculty at the University in Sarajevo.
The first of its kind in the region, the master's program was coordinated by Catholic Relief Services, in conjunction with the Faculty of Islamic Sciences, the Catholic Theological Faculty and Orthodox Theological Faculty of St. Basil of Ostrog.
According to Zuhdija Hasanovic, the dean of the Faculty of Islamic Sciences at the University in Sarajevo, the program is an effort to be more intentional about healing the country's divisions with an attitude of respect. "Each of the faculties works on developing a sense of respect for 'others,' or different ones, but this study program is something special and it will, hopefully, yield results," he said. Professors and teachers from all three seminaries will lead the program, which now includes 23 students.