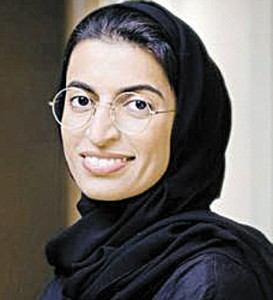 Beirut: Alongside notable global figures such as Iranian President Hassan Rohani and US Secretary of State, John Kerry, two Arab women are in the list of 100 people chosen by Foreign Policy magazine as the "Leading Global Thinkers of 2013."
A Saudi film director, and a UAE media executive, who has "built an Arabic-language media empire," are part of the long list, which is created through a voting process by readers. Saudi director Haifa Al-Mansour had her 2012 film "Wadjda" premiered at the Venice Film Festival. The film made her the first person to ever shoot an entire movie in Saudi Arabia.
Mansour was touted by Foreign Policy "for quietly breaking the Kingdom's gender barriers." In her film, "Mansour produced a gently moving portrait of one girl's quest to buy a bicycle in a country where she is not allowed to ride one." Her ability of depicting a strong message in a non-confrontationist tone has won her government support.
Saudi Arabia recently submitted her film, which was released to American audiences in 2013, for an Oscar nomination. Another woman listed by the magazine is UAE citizen Noura Al-Kaabi, who is the CEO of twofour54, an Emirati-funded company that offers education and training to media producers. While Arabic is one of the world's 10 most spoken languages, it is only used in a very small percentage of global media content. Kaabi has expressed her wish to narrow that gap. Kaabi was also included on Forbes's 2013 list of the 30 most influential Arab women in government.