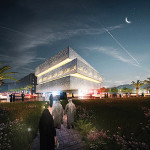 Makkah: Mossessian Architecture, the London-based architecture practice, together with Studio Adeline Rispal, the Paris based exhibition architecture practice, have won an invited competition to design a museum of the Islamic faith in Makkah.
The Makkah Museum will be located 7 kms from the Grand Mosque and will offer a unique interpretation and reflection of faith to the millions of Muslims who visit Makkah from around the world and who, up until this point, have had no cultural institution of this kind to enhance their visit to the holiest of Muslim cities.
As visitors journey through the museum, they learn about the life of the Prophet (pbuh) through exhibits and panoramic films installed on either side of the ramp, ultimately arriving at a 'garden of delight' at the top of the building. Here there are a series of climactically regulated geometric gardens where small and larger groups of visitors can gather in even the hottest months. 
Appreciating the need to appeal to Muslims from all over the world, the scheme proposes using stones sourced from all of the countries where Islam is practised in the construction of the building's exterior wall, and Hijaz rock from the local mountains of Makkah for the interior. The inside of the rock is used to create alcoves and plinths that visitors encounter as they mount the ramp. These house the exhibition displays, which tell the story of the life of the Prophet (Pbuh) and enrich understanding about Islam.