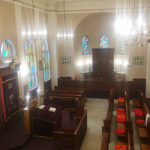 Berlin's 102-year-old Fraenkelufer synagogue was largely destroyed during the Third Reich and will be reconstructed""due to the initiative of a German-Palestinian politician. Currently only the annex, containing a prayer hall and common room originally used as the Fraenkulfer youth synagogue, remains.
The idea of rebuilding the synagogue was first suggested during the centennial celebration as a first-of-its-kind Jewish community centre in Berlin. The synagogue is located in the Kreuzberg district, predominantly populated by migrants, many of them Muslims. Developing a better relationship between the congregation and its surroundings, integrating it into the broader society, is a key goal of the reconstruction.
Meanwhile, the public and political face of the project has become Raed Saleh, Chairman of the Social Democratic faction in the Berlin House of Representatives, and a Muslim. Saleh, 40, was born in a village near Nablus in the West Bank and immigrated to Germany with his family when he was 5 years old. The project, along with his involvement in it, has attracted a variety of reactions""most of them positive, but some also from critics wondering whether the reconstruction is indeed needed or why a Muslim politician is taking the lead in championing the Jewish cause. "I would not be a good Muslim if I would not stand up for Jewish life" Saleh says.