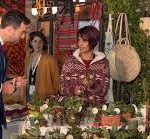 Jerusalem: The US Consulate General in Jerusalem launched the eighth annual Women's Microenterprise Bazaar in support of Palestinian business women from all over Gaza, the West Bank and Jerusalem. The Microenterprise Bazaar is an important part of the US Consulate General's efforts to advance the American-Palestinian entrepreneurship and small business development opportunities supporting the economic empowerment of Palestinian women. Under the Consulate General's sponsorship, the women entrepreneurs received training in social media engagement, marketing, product development, and customer relations.
"Supporting women's achievement benefits all of society and all of the economy, and that's why we at the U.S. Consulate General remain focused on that important goal," US Deputy Consul General, Michael Hankey said in his opening remarks.
The bazaar brings together Palestinian women artists, merchants, designers, and manufacturers of goods that include traditional embroidery, hand-made soap, jewelry, foodstuffs, ceramics, candles, and more.