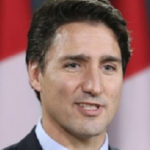 In his traditional greeting to the Reviving the Islamic Spirit convention taking place in Toronto, Canadian Prime Minister Justin Trudeau commended the Muslim community for its contributions to Canada and reiterated his commitment to combat Islamophobia and politics of hate and division. "Canada is stronger because of the contributions of its Muslim community. We are stronger because of you. And that's why every day we just chose hope over fear and stand up to the politics of hate and division," said Trudeau. "That is why our government supports initiatives that encourage inclusion and equality, combats Islamophobia and strengthens the protection of our civil rights," he continued.
In his Christmas message, Trudeau stressed the spirit of giving of the Canadian public and added that Canada will continue to absorb refugees from Syria.
Since winning the election last year, Trudeau has taken the view that Islam is not incompatible with the Western secular democracy.