Khawaja Ekramuddin, Chairman, NCPUL
National Council for Promotion of Urdu Language (NCPUL), an autonomous body under the Union Ministry of Human Resources of Government of India has come a long way ever since it took birth under its former avatar as Taraqqi e Urdu Bureau in 1978. It was in 1997 that it was rechristened as is now known. The Council held its Urdu Kitab Mela or Urdu Book Fair in Bangalore between September 14 and 22, 2013. The Council has crossed several milestones in introducing Urdu to new audiences, gaining lost ground and taking the Urdu script to the threshold of the digital world. Its chairman Khwaja Mohd. Ekramuddin spoke to Maqbool Ahmed Siraj while in Bangalore. Excerpts: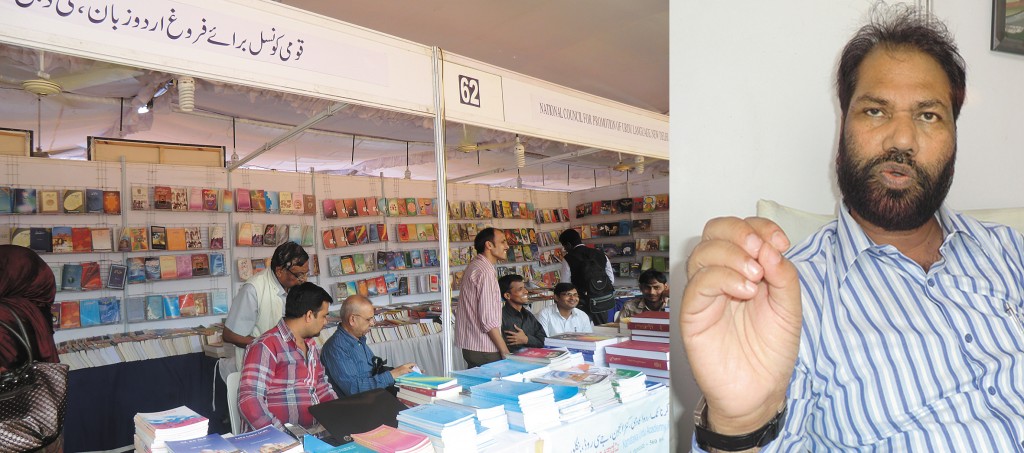 The Council has completed several years in service of Urdu. How would you describe its accomplishments?
The Council became a full-fledged body under the HRD Ministry in 1997. It was set up as Taraqqi e Urdu Bureau in 1978 and was later renamed as Taraqqi e Urdu Board. It now operates 2,500 centres in 26 major states with 467 of them imparting diploma courses in Urdu and functional Arabic and runs calligraphy learning centres. We are trying to fulfill the urges of the current age. We have launched a self-learning online Urdu course with provision for voiceover so that the students could learn the language by themselves. Now students from as many as 18 countries are enrolled for the course. Minister for IT Mr. Kapil Sibbal has shown personal interest in technically upgrading  the Urdu learning facilities. We have even come out with CD version of this course as all students may not have access to internet. Recently we launched the Urdutools, Urdupedia and Urdu Unicode version whereby entire computer could be made to work like an Urdu language computer. We are determined to launch Urdu in digital world with all the modern applications.  
Popularity of verbal version of Urdu such as poetry, ghazals, mushaira and drama is often mistaken for Urdu's popularity although it does not get translated into number of Urdu readers.
Urdu's influence could expand if we take care to reach its readers through modern devices. We have been working towards it. Today children are reading a lot of stuff on hand-held devices, chiefly smartphones.  We are about to launch a large Urdu web portal which would carry all that being written in Urdu. The IT Ministry has even talked to Nokia and Samsung to put Urdu letters on their keyboards. We will be launching our children's magazine for this device.
How does the Urdu's situation compare with development of other Indian languages? Your assessment.
Urdu's situation is different from other Indian languages. Urdu is largely a stateless language. It is a disadvantage as it does not receive official patronage in any particular state. But since it is a pan-Indian language with non-contiguous enclaves, it enjoys certain advantages too. A recent survey indicates that Karnataka has the largest number of Urdu schools, Maharashtra comes next and Bihar ranks third. But unfortunately, Uttar Pradesh, which used to occupy the number one position, has slipped to the bottom. It is only madrassa graduates who study Urdu there. Urdu dailies such as Rashtriya Sahara and Inquilab are being published from 15 to 18 centres. I realize that what has been done is totally insufficient. There should be no scope for complacency.
Any significant headway in matters of new economic opportunity for Urdu-knowing persons?
Our computer courses have becomes extremely popular. Nearly 12,000 students completing these courses are landing up jobs in the IT job market every year.  We will soon be launching computer hardware course named DEEP for Urdu-knowing students who may even include dropouts. We have even prepared seven Urdu Apps for Akash tablets which are being given free of cost to students across several states. The tablets would come uploaded with these Apps. We even propose to upload several Urdu books for the Urdu students. 
Some new opportunities for Urdu-knowing persons have come up in the field of media and entertainment. For instance, there are now four exclusive Urdu TV channels i.e., ETV Urdu, Munsiff TV, Zee Salam and Alami Sahara. Recently, an Urdu Reality Show was held in Mumbai. It may become a daily feature.
However, I would like to add that mere knowledge of Urdu would not yield employment opportunity. Urdu-knowing persons would have to have some professional and technical degrees and skill in hand. Moreover, every Urdu-knowing person must be bilingual and possibly trilingual. This is true with people speaking all the native languages in India. Most economic opportunities are emerging in urban areas which are essentially cosmopolitan.
Non-Muslim litterateurs, poets and writers enriched Urdu immeasurably. But their generation got phased out by 1980s. Several Urdu journals such as Shama, Biswin Sadi, Khilona, Ghuncha, Banu etc which promoted secular ethos, folded up by the 1990s. It seems the secular space is shrinking the field of Urdu writing. Now one does not dare to wield pen against the dogmatically religious views in Urdu. Would you agree with me?
I do not agree with this view. I think a lot of people who were on the margins, have moved to the mainstream in Urdu writing. Several non-Muslims writers such as Mithun Kumar have emerged on Urdu's horizon. In several areas, even non-Muslim teachers are teaching Urdu in schools. New economic opportunities are drawing non-Muslims too.
A cursory look at the books being published in Urdu suggests that most of them pertain to religion, literature and history. Isn't this indication that even in matters of content the field is shrinking in Urdu?
We i.e., NCPUL, have tried to diversify the content by coming out with hundreds of titles on a wide variety of subjects. So far nearly 1,200 titles have come out from the NCPUL. Currently, nearly 100 books on subject of Information Technology are in the pipeline. We are uploading all these books on the Internet. We have recently launched Urdu monthly Bachchon ki Dunia for children. The monthly Urdu ki Dunia has a circulation of over 28,000 a month. A research quarterly Fikr o Tahqeeq is also being brought out regularly.