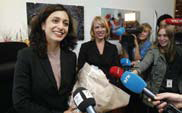 Hadia Tajik, a woman Muslim Holidays of Pakistani origin has been appointed the first Muslim Minister in Norway. She will look after the culture portfolio. With no precedent in Norwegian history, Prime Minister Jens Stoltenberg appointed Hadia Tajik, a 29-year-old Muslim woman, as minister of culture, making Tajik the youngest minister in the Norwegian Cabinet and the first ever Muslim in the Norwegian government. She was elected to the Norwegian Parliament from the capital Oslo in 2009. Tajik said her programme will   focus on cultural diversity as part of the Norwegian people's daily lives and how this reflects on Norweigan society as a whole. The programme will delve into the protection of minority rights, whether cultural or racial, including the right of Muslims to wear the
veil in public places, among other issues.
Born in Strand, Norway, on 18 July 1983, Tajik studied human rights at the University of Kingston in the UK and holds a Bachelor's degree in journalism and Master's in law from the University of Oslo. An activist from a young age, Tajik led the Young Workers
Movement between 1999 and 2002. She also worked as a political advisor to Norway's minister of justice, 2008-2009. During this time Norwegian women members of the police were afforded the right to wear the veil at work. The decision was, however, cancelled later due to harsh criticism from conservative parties. Her appointment is considered a bold step by Norwegian PM as it was in Norway that 69 people were killed by Christian terrorist Andre Breivik last year.