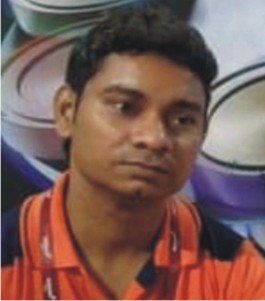 His father laboured all his life and his mother never went to school, yet the twenty-year-old Azharuddin from Muradnagar near Meerut in Uttar Pradesh battled all odds and went on to become a mechanical engineer. Azharuddin studied at a government school and today he is a second-year B.Tech. student at Subharti University, Meerut. The university management does not take fees from him. Instead, they provide all the facilities.
Azharuddin is good with his hands. He has created an electric cart from junk and is now receiving online orders from abroad. The twenty-year-old has also made an electric bicycle that can cover a distance of 100 kilometres on a single charge. In addition to the electric cart, Azharuddin has also made a solar cart, which does not need to be charged. His feat is remarkable as he has accomplished it all by himself.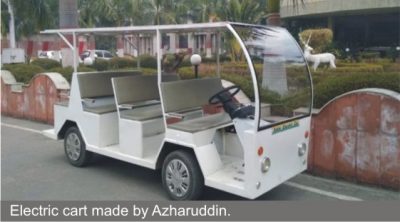 Presently, the boy from Muradnagar is working to get his e-cart verified by the government.
"The e-cart is basically solar powered, but it can also be charged. It will benefit the environment immensely. It is cheaper and more robust. It can be used as an auto", Azharuddin says.
Azharuddin has received an offer of 6 solar carts from a society in Hyderabad. For his first electric cart, it cost him Rs. 1.5 lakh. He has improved its cost of making and his e-cart now has space for more people to sit. An e-cart made by him has been sent to Dubai.
Azharuddin says that he has made his electric bicycle in the same manner. It can charge up to 100 kilometres at a time. It can run-up to the speed of 25-30 kilometres per hour and is pollution-free. He has started getting orders for his e-cycle.
Talking about his e-cart, Azharuddin explains that in the event of solar energy being interrupted, its work will be done by charging and this cart will keep running. "Two batteries of 12 volts and five batteries of 140-ampere lead-acid have been used in the solar panel. This is the biggest feature of this e-cart that it operates from both solar and electricity as well and is cheap," he says.
(Based on an article by Aas Mohammad Kaif that appeared in www.twocircles.net)