Hashmath Fathima has followed her passion for plants, creating an amazing ornamental garden that looks like something straight out of somewhere in the picture-postcard English countryside!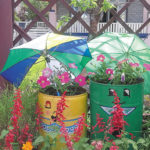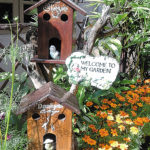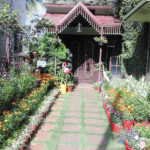 By Nigar
I felt like little Red Riding Hood setting off to a cottage to see a kind aunt when Hashmath Fathima told me that I could visit her at 3 pm at her home in Mysore. That was around afternoon tea time according to my reading of Enid Blyton's stories for children. And so, I imagined strawberry jam sandwiches sitting on a large plate and a mug of hot chocolate waiting for me!
Arriving at Hashmath's gate was like being ushered into a cottage in the English countryside! Winner of the first prize for ornamental gardens under the "Home Garden" category in the Annual Dasara Flower Show in Mysore 2016, Hashmath is passionate about Nature. And, as can be imagined from this, she is the epitome of kindness. The beautiful outdoor ornamental garden around her home hosts some 80 species of plants, including herbs, shrubs, climbers, ornamental grasses, bulbs, trees and flowering plants.
Hashmath has won numerous prizes for her garden for over 15 years now. Hashmath Fathima (58) completed her diploma in costume designing from JSS in Mysore and did a course in teacher's training for nursery kids. "Since childhood I have loved admiring Nature and collecting different kinds of plants. I was very fond of embroidery and making dolls, and loved to keep the house in an artistic way," she explains. "Once, while reading a magazine I saw the picture of a house with creepers growing on the roof and potted plants all over. I thought that if, one day, I have a house of my own, I'd do it up that way, too. I kept that house in my thoughts, and, by God's grace, when I moved to where I now live, I began developing a garden. Plants are my passion," she says.
A dress designer by profession, Hashmath runs a boutique at her home called "Seasons Shade Boutique" and spends much of her earnings on maintaining her garden. Every morning, she spends at least two hours tending to the plants.
"My father passed away when I was very young, and my late mother, a teacher, brought us""my two sisters and a brother""up through hard work. She encouraged me in my passion for plants", says Hashmath.
Although Hashmath has been winning prizes for her ornamental garden for over 15 years now, she is very modest about her achievements. Introducing me to Safina Bano, her neighbour for over two years, Hashmath says that it was Safina who took the initiative to write to the horticulture department about the garden. Safina goaded her to open her garden to the horticulture officials, who then began visiting the garden and were completely enthralled!
"My husband and I were looking around for a house. When we saw aunty Hashmath's garden, we decided that the house next to hers would be ours! It's so inspiring to see her working hard every day to maintain the garden" says Safina, who remarks how wonderful it is to wake up every morning to see so many beautiful flowers and plants next door.
"Aunty is passionate about plants and she made the garden not to compete with anyone, but for sheer joy of being with nature. I am very proud that as a Muslim woman she has independently followed her heart and is conveying the message of preserving nature to people. She's a child at heart," Safina explains.