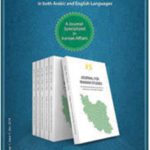 Jeddah: The Arabian Gulf Center for Iranian Studies (AGCIS) has released the first issue of the "Journal for Iranian Studies."
The peer-reviewed publication, in Arabic and English, specializes in Iranian affairs and will appear quarterly.
It has an editorial board led by editor-in-chief and head of AGCIS, Mohammed Al-Sulami, with a number of researchers, translators and editors.The journal is also supervised by an advisory board, which consists of senior academics who are specialized in Iranian affairs, political and social sciences.  The journal is committed to an ethical code. The "Journal for Iranian Studies" will analyze political, economic, security and historical issues surrounding Iran, as well as the country's relations with other regional and global states. It says it will fill "a huge void" in this specialized subject. AGCIS also monitors the daily Iranian and Persian press, files regular reports on Iran and provides specialized consultations for the governmental bodies and civil institutions that are interested in Iranian affairs.