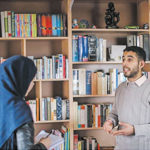 Escaping the confines of the besieged Gaza Strip, often described as an "open-air prison", is a nearly impossible dream for many of its two million residents. But 24-year-old Mosab Abu Toha has found a way to free himself""through books. "Freedom is a state of mind. [With books], you're liberating yourself by living in an imaginary world where there are no boundaries … If I choose to be free, I can be free through my writing, through speaking," Abu Toha says.
As an English literature graduate, he has a thirst for books that has always been difficult to quench in Gaza, where new English books are hard to find. PDF files are not a great alternative, as Gaza suffers from frequent, lengthy power cuts.
English Books are Rare
"Whenever I go to a bookshop or library, I rarely see English books, especially books by Edward Said, Noam Chomsky""these intellectuals who write in English," Abu Toha said, noting that translations into Arabic take about three years. But having relied on his friends from abroad to send him books over the years, he has amassed a substantial collection on the shelves of his third-floor apartment in Beit Lahia. By delving into the works of Tolstoy, Dostoyevsky, Chekhov, Paine, Orwell, Hemingway, Huxley, Finkelstein, Chomsky and Said""and by writing stories and poems of his own""Abu Toha can, at least for a little while, escape the confines of Gaza.
Now he is trying to take that further and share these works throughout the besieged territory. After the 2014 war, as he was rummaging through the rubble of his university's bombed arts department, he found one of the survivors, the Norton Anthology of American Literature, and an idea was born. Realising that Gaza needed a safe home for English books and a space where people could come to read and socialize, rather than hang out in cafes or watch TV, Abu Toha began a mission to open Gaza's first public library for English books.
Donate Books
He set up a Facebook page last spring, calling for people worldwide to donate books. So far, he has collected more than 100, including a few autographed books by Chomsky himself. He is also collecting donations to rent out a space for the library, where he hopes to host lectures by international guests.
The Israeli postal service suspended its service to Gaza from June to December, but it is now up and running again. Although it takes a while, the books eventually reach their destination in Beit Lahia.
Leroi O'Picasso, a history teacher from Chicago, told Al Jazeera that he mailed some books to Abu Toha after seeing a photograph of him holding a book in the midst of a bombed-out library.
The goodwill of strangers is what amazes Abu Toha the most. "It's expensive to send. I wonder how these people can afford to send [their books] to Palestine, even though they don't know me personally, nor do they know Palestinians. So they're good people""I respect them," he said.
According to a 2016 survey conducted by the Palestinian Museum, of the 41 libraries that initially stood in Gaza, 21 closed over the years and seven were thoroughly destroyed in the 2014 Israeli assault. The Shujayea Club Library lost all of its 6,000 books during the war, while 10,000 books were destroyed at Beit Hanoun's library in northeastern Gaza.
In the libraries that are still functioning, the books are mostly outdated.
University libraries also struggle to provide updated books for their students. The Islamic University of Gaza has not been able to import any new books in Arabic since the Egyptian military coup in 2013.
Vital Lifeline to the Outside World
Abu Toha is determined to keep the books coming, noting that they serve as a vital lifeline to the outside world and a way to connect with others. "Books are very important. We can learn about other cultures, how [other people] think, how we can communicate with them, how we can understand them," he says. "Language is what makes us all human. We all have languages; we use our mouths, our minds to communicate, so there is something common between us. It's books", he says.
(Extracted from Aljazeera.com)