The Discover Yourself Workshop was held in the Al Ameen College Campus on April 15,16, and 17, 2016. Some of the participants share their experiences.
Breath taking journey from the external world to my internal world.
Everyone should attend it once in their lifetime.
The wisdom of this workshop must be imparted to every Muslim and in every Madrassa.
The participants in the workshop could move from the material (external world) to the domain of Allah (inner world).
This workshop is very useful, it helped me to clear my confusions. It is a life changing workshop from negative to positive.
The coach is very realistic. It helped in changing myself for the better and it had a positive impact on me.
It has boosted confidence in myself.
This workshop has not only benefited my personal life, but also my way of thinking and my attitude towards other human beings.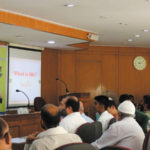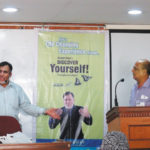 ASLAM: Mashallah, the workshop was very interesting and informative on all the three days. The syllabus chalked out was very helpful in understanding ways and means to have a change in one's daily activities of materialistic world. The supportive contents of Quran and Hadith added authority to your explanations, resulting in one's personality transformation for benefits of self in particular and society in general. My sincere prayers for your wellbeing in this noble cause, may Allah bestow more strength, ease all the hurdles that come your way. Hope the community understands the value of this workshop and attends it to shape their destiny.
ASMA: I knew everything that was being told, but I did not know how, where, when and why I should apply them. My life before this workshop was very fluctuating with high variations, but now I am trying to calm down. It was altogether a different experience, feels like the battery of my heart is now fully charged, before only the mind was over charged. May Allah bless you! May you get a chance to change many more lives.
YASMEEN: Before I attended this workshop, I was upset, angry, felt very low about any situation that came my way. But now I feel relaxed, trying to forgive, be more thoughtful and kind.
SALMA: I was confused, depressed, negative minded and living in the past. I had a feeling that I will not be successful, Alhamdulillah, after attending this workshop, all the dirt from my mind has dropped. Now I am feeling light and living in the present. I thank Allah and you for this life changing workshop.