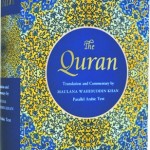 This Ramadan pledge to convey the message of the Quran to mankind by helping to sponsor distribution of translations of the Quran.
The Prophet of Islam has said:
"If God grants guidance to a single person through you, it is better than all the things upon which the sun rises."
The Quran says: "Those who spend their wealth for God's cause may be compared to a grain of corn which sprouts into seven ears, with a hundred grains in each ear: for God grants manifold increase to whom He wills; God is Infinite and All-knowing. (2:261)
Become involved in spreading the Quran to all mankind in order to fulfill your responsibility of dawah (spreading the divine message).
The New Delhi-based Centre for Peace and Spirituality International is involved in worldwide free distribution of translations of the Quran in various languages, like English, Hindi, Urdu, Malayalam, Marathi, German etc.
If you want to contribute for this purpose, you can send a cheque favoring "CPS International" at 1, Nizamuddin West Market, New Delhi-110013, or give an online donation (http://cpsglobal.org/cps/donate) or transfer funds to OBC Bank (Oriental Bak of Commerce), Current Account No. 01442151005258, IFSC Code ORBC 0100144, Address: G-11, South Ext. Part-1, N Delhi-110049. After the transfer, please email your name and address to [email protected] with subject "Ramadan Donation". We will send you the receipt of the same for 80 G benefit.
CPS International is set up as an NGO registered in India under Sections 12 A and 80 G of the Income Tax Act, 1961. Donors would, therefore, be entitled to claim deductions.