New Islamic Cultural Centre in Croatia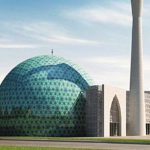 Sisak City, Croatia: In a ceremony attended by about 2,000 Muslims, from Croatia and neighboring countries, including state and local officials, diplomats and other guests, the construction of the fourth Islamic Cultural Centre in Croatia began recently in Sisak city. The center, which is estimated to cost around 5.5 million Euros, will be built in phases in Croatia. The new facility, with the area of 2,500 square meters, in addition to the prayer area, will also include a number of other facilities for cultural, social and educational activities. In addition to a mosque with a large dome and a minaret, there will be a multi-purpose hall, library with reading room, classrooms, a restaurant, accommodation area and other facilities.
"This is a great day," said Head of the Islamic Community in Bosnia and Herzegovina, Reis-ul-Ulema Husein Kavazović. "From the future spiritual home, we will demonstrate and express harmony and a new quality of life, not only for the Muslims in this town, but also for their good neighbors, Catholics, and others. This act is also our hope for the vision of a better world, united in good and communion," said Kavazović.