A financial institution like Janseva can serve the low-income groups in India in enhancing their financial capability.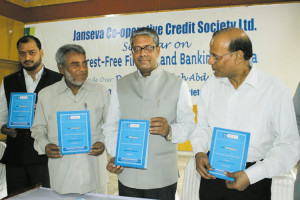 By A Staff Writer
Gaya: Janseva Co-operative Credit Society limited opened its 24th Branch on March 15 at Gaya (Bihar). The five-year old Society will provide interest free finance and banking services to the people who do not have access to the banks due to the smallness of their needs. A seminar on "Interest-Free Finance and Banking in India" was organized on the occasion to shift the discourse among the community from the theoretical discussion to practical steps of Islamic finance.
Inaugurating the seminar, Prof. Ishteyaque, Vice Chancellor, Magadh University, said the centralized system of Zakat collection could reduce unemployment from the community. He said, the financial institution like Janseva can serve the low-income groups in India in enhancing their financial capability. He praised the services of Janseva as a co-operative society in India.
Mr. M. S. Khan, Board Member, Sahulat Microfinance Society, narrated the history of the Islamic and non-interest finance movement in India and abroad. He said the interest-based system tends to accumulate wealth in a few hands.
Mr. Sarfrazuddin, Interest-free microfinance expert and the former Managing Director of Al-Khair Co-operative Credit Society made the audience aware of the manner in which the depositors' money is used in the conventional banking.
Mr. Danish Reyaz, Director, Maeeshat Media, observed that Muslims who provided the backbone of the Indian economy were now reduced to mere labourers and were content with just daily wages.
Dr Rahmatullah Abdul Ahad, Chairman and Managing Director, Janseva Co-operative Credit Society., presiding over the meeting, said the people's trust had enabled the Janseva to make an annual turnover of Rs. 10 crore. He said the Society now had a capital of Rs. 15 crore. He said, the 17,000 members of Janseva across India together earned a profit of Rs. 75 lakh this year and the institution became a sustainable financial institution based on the principles of interest-free financial system. "Janseva will provide an avenue to bring together the local varied populace including businessmen, daily wagers, students, and the salaried class to delve into the different facets of its products and to come up with the efficient services", said the Chief Promoter and Founder Chairman.
Dr Hamid Hussain has been appointed as the president of Area Managing Board (AMB) and Tameemuddin Humble as the Manager/Ex Officio secretary of Gaya Branch.
Dr Farasat Hussain, Past President, Indian Association of Sports Medicine; Mr. Badiul Akhtar, facilitator of Janseva Gaya Branch also spoke at the occasion.