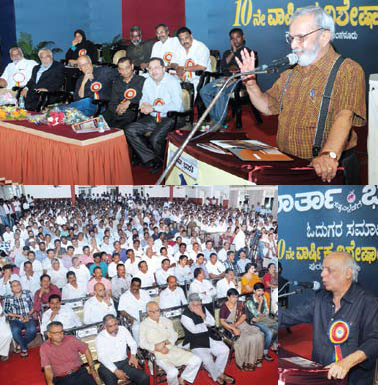 Vartha Bharathi entered its 10 year of publication and a programme was organised at the Town hall in Mangalore recently. The event portrayed the efforts initiated in 2003 with a single minded vision to serve as a voice of the voiceless by a handful of visionaries. It was
not just a media venture, but a mission which was successfully accomplished in a communally volatile coastal belt of Karnataka. Eminent scholar, Dr U. R Anantha Murthy and Bollywood director and producer, Mahesh Bhatt spoke strongly in favour of a media based on truth, without prejudice. Abdussalam Puthige, editor- in- chief of Vartha Bharati said: "We have been objective in reporting
facts during this journey in the last nine years, despite the fact that an effort was made to brand us as an organ of a particular community". "But the elite from the community have not responded positively. The newspaper has been able to withstand pressure of few politicians and influential class who wanted the newspaper to tow its line", he adds. The newspaper gained its popularity
from Kannada readers as a mainstream voice. The editor feels that the psyche of the community must change as this paper is read more by members belonging to various communities. This was demonstrated effectively with the launch of the Bangalore edition, now there are preparations to launch the Hubli edition shortly.