Minister Mukhatar Abbas Naqvi announces special award for persons engaged in promoting education among minorities at the AFMI conference at Jodhpur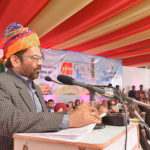 By A Staff Writer
Jodhpur: The Ministry for Minority Welfare will honour people who have made outstanding contribution in the field of promoting education among minorities on October 15, 2018, the birth anniversary of late President of India Mr. A. P. J. Abdul Kalam. Prime Minister Mr. Narendra Modi will give away the award to the persons being honoured. This was disclosed by Minister for Minority Affairs and Parliamentary Affairs, Mr. Mukhtar Abbas Naqvi on December 30, 2017 at the 26th conference of the American Federation of Muslim of Indian Origin (AFMI) held at the Maulana Azad University at Bujhawar village, 15 kms from Jodhpur. Inaugurating the 2-day conference of the AFMI, Mr. Naqvi said 70% of the funds allocated to his Ministry have been set aside for promotion of education among the minorities. He said the Ministry was targeting promotion of professional education among the minorities. He informed that 15 million students from among the minorities received scholarships from the funds allocated for the Ministry during 2017 which is a new record. Mr. Naqvi inaugurated the new 3-modular laboratory of the Maulana Azad University at the occasion. Lauding the Maulana Azad University's services, Mr. Naqvi promised all the assistance from his Ministry. Mr. Ganjendra Singh Shekhawat, Minister of State for Agriculture in the Union cabinet (also representing the Jodhpur Lok Sabha constituency) announced a Rs. 11 lakh contribution from his MPLAD Fund for the Marwar Muslim Education and Welfare Society which runs the University and a string of institutions.
Mr. Abdur Rahman Nakedar, Founder Trustee of AFMI, said the Federation has been awarding gold, silver and bronze medals to top six outstanding Muslim achievers in SSLC and PUC (plus Two) level in each state of India every year. Besides, three Muslim toppers from each State are selected for scholarships annually.
In a special ceremony, the AFMI presented gold, silver and bronze medals to 128 Muslim achievers for the year 2016-17. These included Ameena Khatoon from Uttar Pradesh, Rukhaiya Jhubwala and Amtul of Madhya Pradesh, Shifa Saniya of Karnataka (scored 99.2% in 10th std exam), Munira Bi Vardaval (scored 95%) of Dungarpur, Nishat Khan of Jodhpur (95% in 10th), Sadaf and Ingeel Sayyed (93% each of Jodhpur) all in Rajasthan, and Mansha Zareen of Telengana.
Important among the delegates in the conference were Mr. Baltej Singh Mann, acting Chairman of the National Commission for Minorities; Mr. Justice M. A. Siddiqui, former chairman of the National Commission for Minority Education Institutions; Dr. Abdur Rahman Nakedar, founder of the AFMI; Dr. Iqbal Ahmed and Dr. Razia Ahmed (Ohio); Dr. Muhammad Khutbuddin (Indiana); Ayyub Khan (Toronto); Dr. Aslam Abdullah (Las Vegas); Dr. Hussain Nagamiya (Tampa-Florida); Dr. Javed Mirza (New York); Sahfi Lokhandawala (Michigan); Siraj Thakore (Toronto); Tayyab Poonawala (Birmingham); Dr. Habeeb Bhurawala (Sydney); Dr. Abdul Hai (Patna); Dr. Fakhruddin (Hyderabad); Dr. Azeem Shervani (Bahraich); Nazim A. (Ajmer); Peerzada (Retd. IAS); Mr. Abdul Qaiyum Akhtar (Jaipur); Sayeed Ansari (District President of the Congress Party, Jodhpur); Mr. Abdul Aziz (President of the Marwar Muslim Education and Welfare Society); Shabbir Ahmed Khilji, Haji Abbadullah Qureshi, Fazulur Rahman, Sahukat Ansari, Nabir Khan, Mod. Ishaque, Zaki Ahmed, Nisar Khilji, Feroze Kazi, Dr. Imran Khan Pathan (Registrar, Maulana Azad University).
Prof. Akhtarul Wasey, President of the Maulana Azad University was presented the Sir Syed Award for his distinguished services to the cause of Muslim Education.
Dr. Qutubuddin is new AFMI Chief: Dr. Mohammad Qutubuddin, noted psychiatrist hailing from Hyderabad and currently based at Indiana, has been elected the new President of the AFMI. This was announced on December 31 at the conclusion of the 2-day conference held in Jodhpur.