BE in Petrochemical Engg. to be started this year.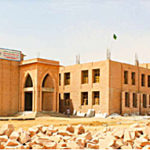 By A Staff Writer
Jodhpur: The Maulana Azad University here has begun shifting all its functioning departments to the new campus, which has come up at Bujhawar village, 14 kilometres from Jodhpur station.
The main building, comprising 180,000 sq. ft. space, will be commissioned shortly before the new academic session starts in mid-July. The aesthetically-built complex has taken all the green elements with a capacity to produce 100 KW solar power. It will meet 80% of the power needs of the campus. It has provision for rainwater harvesting, composting of garbage and recycling wastewater. The building was constructed at a cost of Rs. 12 crore. It will have around 10,500 students by the year end. The campus was designed by noted architect Anu Mridul.
n a chat with this scribe, the Chancellor and one of the founders of the Maulana Azad University Mr. Mohamed Atique, informed that the University will start a Unani Medical College, for which a proposal has been sent to the relevant authorities. Sanction is likely to be granted to start the college with 100 student intake. He said the Engineering College will be starting BE courses in Electrical and Electronics and Petrochemical Engineering from the new academic year. The college which started in 2016 has been enrolling students for Civil Engineering and Computer Science. Mr. Atique informed that a five-member delegation from the University will be visiting various universities of Iran from July this year on the invitation of the Government of Iran. The American Federation of Muslims of Indian origin will be holding its 2017 session at the University on December 30 and 31. Mr. Atique said that currently the University has around 60 students registered for research studies leading to award of Ph.D.