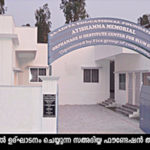 By A Staff Writer
Bengaluru: The Ayishamma Memorial Orphans and Destitute Home Centre for Slum Girls was inaugurated here on November 5 at Shanubhoganahalli off Bannerghatta Road by former Chief Minister, H. D. Kumaraswamy. The Centre will accommodate girls from slum areas and provide them schooling from 6th to 10th standard. The 50,000 square feet, single storey building will have facilities for 150 inmates. Currently there are 50 inmates who have been enrolled in 6th standard and are being taught by three teachers and two aalimahs through English medium.
The project has been taken up by Fiza Group of Companies which is into windpower generation in South eastern region of Karnataka. The Fiza group is headed by industrialist B. M. Farookh who set up the Saadiya Education Foundation 15 years ago. The Orphans and Destitute Home is named after his mother. The Foundation is also running two Dawah Colleges which impart theological education along with PUC, Degree and M. Com colleges in Bengaluru. Synchronising with the commissioning of the Home, the foundation stone was laid for Haji B. M. Ahmed Bava Memorial Happy Living Zone, where students for slum areas will be provided stay, food and education. It will come up on a five acre area at an estimated cost of Rs. 15 crore.
General Secretary, Moulana N K M Shafi Saadi welcomed the gathering while Chairman K. S. Attakoya Thangal prayed for the success of the project. Contact: Saadiya Educational Foundation, Near Kadirenahalli Park, 13th Main, 34th cross, BSK 2nd stage, Bangalore-560070, email: [email protected], Ph: Ansar: 80738-87340.