NRI Urdu writer Unveils Science Drama
Bangalore: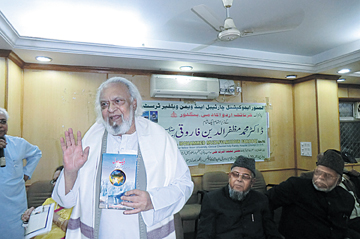 Could 'Global Warming' be the stuff of drama. Yes, indeed if the author happens to be a scientist.
Chicago based Dr. Muzaffaruddin Farooqui is a scientist, writer, playwright and historian, all rolled into one. Last fortnight, Urdu lovers of Bangalore were served with bucketloads of scientific information as Farooqui, who was visiting India, addressed a few gatherings in the city. The occasion came handy to unveil his book titled Black Hole, an Urdu drama based on as recent concepts as Global Warming, climate change and vanishing of ozone layer. Though Black Hole was published way back in 2008 by Anjuman Taraqqi e Urdu, Delhi, few were really aware of emergence of something of this genre in the language.
Urdu is more renowned for its refined poetry and short stories. Most of those conversant with the nuances of the language, would confirm that not much sci-fi stuff could be found in Urdu literature. Most Urduphiles tend to believe that Urdu as a language is not much attuned to sci-fi. As Farooqui would himself attest, Mahboob Khan Tarzi, a Pakistani poet who died in 1991 was the only one whose poetry is known to have touched upon some scientific facts.
But here lies Farooqui's forte. Sci-fi in themselves are not truly representatives of actual science. Much of the facts are sacrificed at the altar of literary rhetoric as well as fictional licence. Farooqui has dealt with the subject of thinning of the ozone layer and ultimately developing holes""some of which could already be seen over Arctic region""through which the sky looks black. The subject is indeed ticklish and hardly amenable to drama. But in the words of Dr. Taqui Khan, former Principal, Nizam College, who has written the preface for the book, Farooqui has scrupulously avoided any compromise on facts and has etched to relief the larger issue of unsustainable lifestyle that has fast-forwarded the exploitation of the natural resources totally oblivious of the hazardous impact on the environment.
Addressing a gathering in the city on February 20, Farooqui said perhaps the Quranic verse wa jaaln'as samaa' saqfam mahfooza (Anbiya: 32) (And We have set up the sky a canopy well-secured) refers to this ozone layer which is visible to us as the azure sky and has been protecting the life on the earth from the hazardous ultraviolet rays. "Beyond this""and also through the ozone holes""the sky appears black," adds Farooqui. Proceed a little in the same Surah Anbiya, the verse no. 44 avers: Inna natiyal arza nanqusooha min atrafiha (Then, do they not see that we constrict the earth (space) from around them. Farooqui interprets this to the scenario of rise in level of the sea which would inundate the coastal areas.
Dr. Farooqui said, humanity stands at the verge of the environmental abyss and it will not be long before this consumer-driven civilization will end up in a catastrophe. He said the human destiny lies in finding alternative sources of energy and simplifying lifestyle thereby reducing the energy requirement.
Currently based at Chicago, Farooqui was born at Khamampalli in Andhra Pradesh and did his Masters in Chemistry from Osmania University. He proceeded further to attain his Ph.D. in Chemistry from Aligarh Muslim University. Having taught there for two years, he had a stint as a scientist at Regional Research Laboratory at Hyderabad. Further studies led him to Ikron University where he was a post-doctoral fellow for a year following which he served as the clinical chemist at the Holy Family Hospital at Chicago for nearly three decades.
Farooqui has dabbled in history and fiction too. Two of his short story collections Teen mulk ek kahani, Namon ka aghwa and two history books Hindustan mein Muslim daur e hukoomat ka khatma and Hindustan ki azadi mein musalamano ka hissa, have also hit the bookshelves in the past.