Activists, Ulema, Police Officers issue a call for boycott of marriages where dowry is exchanged and band is played. Ceremonies must conclude by 12 midnight.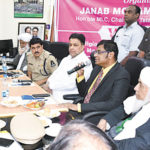 Hyderabad: A meeting of religious heads, Muslim scholars, Qazis and police authorities passed resolutions appealing to the Muslim community to perform marriages in a simple manner. The meeting, convened by the Telangana State Wakf Board chairman Mohammed Saleem, was attended by Hyderabad Police Commissioner, V.V. Srinivas Rao, Mufti Khaleel Ahmed, Qubool Pasha Shattari, Hameed Mohammed Khan of Jamat-e-Islami, Moulana Jaffer Pasha and other religious scholars.
It was resolved that no one should demand dowry. 'Nikah' should be performed in 'Masjid' preferably by Isha prayers, so that the dinner can start immediately after 'Nikah' and the entire function should be completed by 12 midnight in all aspects. A call for boycott has been given for marriage functions having orchestra programme, dancers, band or dancing with arms, lavish dinners and those which are held till late night.
It is proposed that the Qazis will not perform Nikah after 9 pm. Management of all functions halls will display the notice that the power supply will be disconnected by 12 midnight and so the entire function should be completed before 12 am and the parties shall vacate the function hall by then.
The dinner should be simple and consist of only Biryani, curry, curd and one sweet. There should be no display of any type of arms at functions. In case of any such arms' display during the baraat, it may be reported to the police authorities immediately and a case under Arms Act will be booked against the concerned persons.
The meeting was held with a view to curb the practice of lavish marriages which was causing trouble to the poor and middle-class Muslims. Just to show off their false prestige by hosting lavish dinners, poor and middle-class Muslims were pushed in a debt trap. Many wedding functions were commencing after 10 pm and going on till 3-4 am which was causing problems for everyone.
The Police Commissioner, however, said that it would be easier for the police authorities to implement this system, if the State Government issues guidelines in this regard.