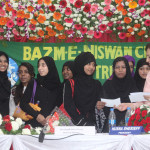 Bengaluru: The Bazm e Niswan, a leading NGO of Muslim women in Karnataka disbursed Rs. 1.25 crore by way of scholarships among the girl students in colleges at a function at Samad House on Hospital Road in the city on July 19. The students in PUC were given Rs. 2,500, those doing the degree received Rs. 3,400 while the ones pursuing Masters were sanctioned Rs. 5,000, all by cheques.
The Bazm headed by Ms. Husna Sherieff as President, has completed 41 years of service to the community. It has helped 48,000 girl students in the entire tenure. The Bazm is also helping 250 elderly persons with stipend of Rs. 150 a month together with free medical treatment. It also extends financial assistance to 300 girls from the underprivileged section for marriage. For more info contact: Bazm e Niswan Charitable Trust, 37-Muniswamy Rd., Tasker Town, Bengaluru-560051, Ph: 080-222860023, 22266973, email: [email protected]
(By A Staff Writer).