Migrant Labour are easy prey to predator-contractors and become bonded labourers. They are major victims of exclusion from food security, healthcare cover and education. Does anyone care about them?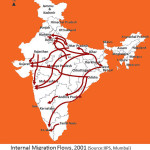 Great many Indians move across states in search of livelihood. If the data from the National Sample Survey Organisation (NSSO) is any credible index, a whopping 32.6 crore people or 28.5% of the population of India constitutes migrant people. The 2011 Census figures pertaining to migrants are still not available. It is anticipated that this number would rise to 400 million in 2011. (clarify)
A Government committed to well-being of all citizens cannot remain oblivious of this section of people.
There are two kinds of migrants: 1- Long term migrants who relocate due to 'Asset and livelihood deficit', and 2- Short term or seasonal migrants who move back and forth.
Major Source states for Migrant Labour : Andhra Pradesh/Telengana, Bihar, Odisha, Jharkhand, Madhya Pradesh, Chhattisgarh, Rajasthan, Tamil Nadu, Uttar Pradesh, Uttarakhand,
Major Destination States for Migrant Labour
Delhi, Gujarat, Haryana, Karnataka, Maharashtra, Punjab.
How the Migrants Suffer?
Exclusion and distress are the major factors for pushing migrants. The migrants are lured into becoming bonded labourers by gangs of recruiters.
What is Bonded Labour?
A person loses or forfeits freedoms when he works for no or nominal wages,
Or is not free to do other work,
Or not free to travel freely,
Or not free to buy or sell goods at market value.
The bonded labourers easily fall prey to indebtedness and thereon to slavery, servitude, forced removal of organs and sexual exploitation (in case of females).
An Excluded Lot
Political exclusion: The migrants remain politically excluded due to their absence from the constituencies at the time of the elections and thereby their grievances remain excluded and unaddressed.
Housing Exclusion: Migrants face difficulties in accessing housing and other basic amenities such as water and sanitation and often live in urban slums, facing constant threats of displacement and eviction from government officials. Shelter solution show little appreciation for the needs of seasonal migrants who come to the cities for short period of time.
Many of the homeless in Delhi are migrants from UP, Bihar, West Bengal, Rajasthan and Madhya Pradesh who have left their villages on account of extreme distress situations. While the term 'homeless' is a situation, description focuses on deprivation. Some even have termed them "city makers" which is a more positive and dynamic identity.
PDS Exclusion: The migrants are excluded from food security programmes as they cannot avail of the food from Public Distribution System (PDS) from where they migrate out and are no longer included where they locate themselves.
Educational Inclusion
Seasonal migrants often take their kids along when they migrate for work, which affects their education. The children cannot join schools in the new location as either academic sessions do not match, or medium of instruction is different from their own. This leads to disinterest in education and results in their dropping out.
Exclusion from Healthcare cover: A lot of migrants suffer from respiratory problems, malaria, Tuberculosis, kidney and bladder infections, malnutrition, allergies and hazards that are normal to change of climate from the place of origin to place of relocation including the ones attracted during the transit. They also suffer from worksite accidents.
Prevalence of HIV / AIDS too has been reported ten times higher than among the general population (NACO 2010).
Financial Inclusion : Most migrants are not able to access banking facilities since they do not have the necessary documentation to fulfill the 'Know Your Customer' (KYC) requirements of banks, including proof of identity and proof of address. To remit money to families left behind, they are forced to rely on informal networks (e.g., friends and relatives visiting home, Hawala, informal couriers, or bus drivers) or else send money through the post office by money order, which is often expensive and less preferable.
How Do We Tackle the Exclusion?
Migrants need to be part of the societies that they serve. How could this be achieved? The civil society organizations have responded to this in several ways. Though few and far between, here are a few:
Registration and Issue of ID: Aajeevika Bureau, an NGO working in Rajasthan and Gujarat registers and issues Identity cards to the migrant workers. This is helpful in their verification and spares them of police harassment. It allows them rights as bona fide workers and saves them from exploitation.
Inclusion in PDS: Disha Foundation in Jaipur helps the migrant workers in getting temporary ration cards for their period of stay in a destination city. Disha plays a pivotal role between them and the state PDS authorities.
Shramik Haziri Diaries: Pratikar, an NGO based in Odisha has addressed the problem of harassment and exploitation at the hands of the contractors by issuing Shramik Haziri Diaries for migrant workers. These keep account of days worked and payment details which help in settlement of the wages.
Suvidha Rasoi Ghar: Hindustan Petroleum Corporation has set up community kitchens or Suvidha Rasoi Ghars, through its CSR initiative for 400 migrant workers in Ahmedabad. Aajeevika Bureau is a partner with HPCL in this initiative. These community kitchens are spaces with stoves and LPG cylinders where groups of migrants can cook on an hourly basis. The installation cost is borne by the company and requires no paperwork. But for the company's efforts, the access to cooking gas will be unimaginable for these workers.
Smart Cards: FINO Paytech Money Transfer-Started by FINO Paytech as an alternative channel for banking services and branchless banking model. Started in June 2009, it provides safe, prompt, low-cost and reliable remittance services to its customers across India using technology and an extensive service delivery channel.
Eko India Financial Services started business correspondence operation with the SBI in 2009 with ICICI bank in 2010 and with Yes Bank in 2012. Under this initiative migrants approach Eko outlets (mostly neighborhoods shops or retail stores), deposit cash and have the funds credited into a family member's bank ac. within minutes. Eko's agents assist migrants in remitting money by using low-cost phones.
(Source: The above script has been prepared on the basis of presentation at the seminar on Labour and Migration with States held at the Indian Social Institute, Bengaluru in July 2015.)