Apart from other resolutions, the Anti-Terrorism Conference stated that calling an act of terror "Jihad" as "Terrorism" is the gravest form of Terrorism in the 21st Century.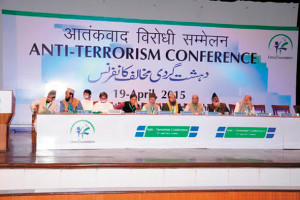 By Ghulam Rasool Dehlvi
New Delhi: The "Anti-Terrorism Conference" was held at Constitution Club in Delhi, last fortnight, with an aim to draw a clear distinction between pernicious acts of terrorism and the true essence of Jihad in Islam. The speakers strongly and categorically denounced every form of terrorism, injustice and corruption in the harshest terms. The conference proclaimed its standpoint that "peaceful coexistence" is the only way of life that can ensure peace and security for all religious communities in India. A great number of ulema, academicians, activists and politicians participated in the conference and stressed the need for elimination of extremism, terrorism calling for peaceful coexistence among all faith adherents as 'glorious' and 'invincible' principle to abide by, in all circumstances.
In his inaugural remarks, Senior Sunni-Sufi Muslim scholar Maulana Yaseen Akhtar Misbahi, the host of the event, explained why he felt the need to organise this conference. He said: "regrettably, we have witnessed in our country, during the last years, acts of violence and terror perpetrated by the terrorist outfits such as Lashkar-e-Tayyiba and Jaish-e-Muhammad much in the same way as the global extremist organisations like Al-Qaida and ISIS are perpetrating atrocities, brazenly violating Islam in the name of Islam, Jihad and Khilafat." Maulana Misbahi averred that the conference was planned to strongly, unambiguously and unequivocally declare all such pernicious and obnoxious acts as mindless violence of the extremists. "We also proclaim that they have nothing to do with the peace-loving and pluralistic Indian Muslims who are vehemently opposed to the handful terrorist goons", said Maulana Yaseen Akhtar Misbahi.
He said that "Indian Muslims are against every form of terror whether physical or theoretical." He also appealed to Muslims to take pride in being 'Indians' just as they feel proud to be Muslims. He said that Muslims in India are living in a safe haven as compared to many countries where Muslims constitute the majority.
Senior journalist and former MP, Kuldip Nayyar endorsed the points made by Maulana Misbahi. He made it clear that "conflating any particular religion with terrorism is completely erroneous and misguiding". In his speech, Justice Rajinder Sachar hit out at his critics who spread wrong propaganda about Muslims and other minorities. He said that Muslims and Christians in India are not outsiders but an integral part of the country.
Acharya Pramod Krishnan said that Prophet Muhammad (Pbuh) came as a blessing for all worlds, not only for Muslims. Therefore, he should be revered by us all, he said. General V.K Singh, Representative of Govt. of India said: "I have also studied the holy Quran with translation, but I did not find any link to terrorism in it. The fact is that when Islam came, it emphasized moderation, equality and kindness much more than any other religions".
At the conclusion of the conference, Maulana Ashraful Kausar read out the proposals and recommendations. The program convener Maulana Aqleem Raza Misbahi said that "the conference states in the strongest and the most spirited words that "Calling an act of terror "Jihad" or declaring Jihad as "Terrorism" is the gravest form of Terrorism in the 21st Century".