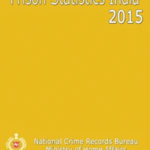 There were 4.19 lakh inmates in 1,401 jails in India in 2015. They were crammed in the space meant for 3.66 lakh individuals. This means there were 14% more inmates than the jails were meant for. This is however an improvement in situation as the jails contained 17% more inmates than the capacity in 2014.
Of these 4.19 lakh inmates, women were only 17,834 while males were 401,789.
Undertrials represented 67.2% of the inmates while convicts were 32%.
The highest number of 88,747 inmates were reported from Uttar Pradesh (UP) followed by Madhya Pradesh 38,458, Maharashtra 29,657, Bihar 28,418 and Punjab 23,645 at the end of the year 2015.
A total of 374 women convicts with their 450 children and 1,149 women undertrials with their 1,310 children were lodged in various prisons in the country at the end of 2015.
Murder convicts accounted for 59.6% (70,827 out of 1,18,746) of the total convicts under IPC Crimes. Maximum murder convicts were lodged in Uttar Pradesh (15,516) followed by Madhya Pradesh (11,207) these two States accounting for 21.9% and 15.8% of the total murder convicts at the end of the year 2015 respectively.
Dadra and Nagar Haveli reported the highest overcrowding in prisons (276.7%) followed by Chhattisgarh (233.9%) and Delhi (226.9%).
Of the total inmates, 67.75% were Hindus, 19.2% were Muslims, 4.39% were Sikhs, and 3.79% were Christians. Castewise, SCs accounted for 21.25%, STs 12.72% and OBCs 31.15%. Underprivileged communities therefore had an overwhelming share of 85%.
The prisons have a staff strength of 53,009 jail officials to take care of 4,19,623 inmates which amounts to 1 jail official per 8 inmates
A total of 1,584 deaths in jails were reported (1,469 natural and 115 un-natural) during the year 2015.