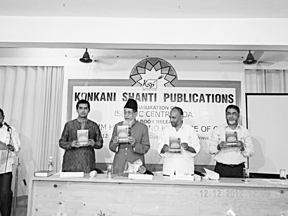 By A Staff Writer
Mapusa (Goa): Islamic Centre Goa was inaugurated by Jamaat-e-Islami Hind President Maulana Jalaluddin Umri, on December 12 in Peddam locality of Mapusa city, 12 kms north of Panaji. Mr. Umri also released Muslim History and Heritage in Goa authored by Mr. Prajal Sakhardande, a historian and professor with Dempe's College of Arts and Science.
Speaking at the occasion, Prof. Sakardande said normally the Muslim history in Goa is traced from the Adil Shahi era. "It is incorrect, historical records show Muslim presence in the territory from 7th century AD". A calendar carrying pictures of Islamic heritage in Goa with Adil Shahi Safa Masjid was released by Mr. Abdul Wahid Khan, state president of Jamaat in Goa.
The Islamic Centre Goa is the first of its kind of centres in this erstwhile Portuguese colony. The four storey building on a 520 sq. metre plot of land has an auditorium on the first floor with a capacity to seat 250 persons. The second floor has a library, a conference hall, a studio, and a guest room. The third floor is an auditorium exclusively for women. The fourth floor is a dining hall.
Addressing a gathering at the occasion, Maulana Umri said, people tend to blindly follow the Western concepts and lifestyle and said the Western media often distorts the reality. He emphasized the need for interfaith dialogue. Ibadullah Khan, general secretary said the Jamaat was translating Islamic literature into Konkani language.
Architect Nevillel Monteiro, Engineer and Adam Khan, digital print designer were felicitated for their role in construction of the building. Sharief Shaikh proposed a vote of thanks. Asif Hussein compered the programme. Address: Jamaat e Islami Hind Goa, 222/B/4″"Bilwan, Peddam, Mapusa, Goa, Ph: 98906-24813.