Lokmangal Coop Bank starts Islamic banking operations following official green signal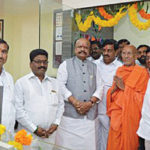 By A Staff Writer
Solapur: Lokmangal Cooperative Bank here has launched Islamic banking on interest-free basis which will be operated in compliance with the Shariah. Surprisingly, the Bank is headed by Mr. Subhash Deshmukh, Minister of Cooperation in the Maharashtra Government. He is a BJP MLA representing Solapur, South. Twelve businessmen were given personal loans on September 16 totalling to Rs. 2.50 lakh. The bank will neither give interest to the depositors nor will take interest from the borrowers.
The Lokmangal Cooperative Bank has nine branches, eight of them in the parent location of Solapur while a single operates in the city of Pune.
The interest-free transactions have been taken up by the Barashi branch of the Bank. Deshmukh said all the bank branches will gradually open the Islamic banking counters. The two first deposits came from a Hindu (Rs. 50,000) and a Muslim (Rs. One lakh). The money was disbursed by way of loans by the same evening.
At the inauguration, Deshmukh said: "We will give most loans to poor Muslims who need to be economically uplifted. It is Modi sab's dream. We will see if the Reserve Bank of India (RBI) or Government of India come out with rules in this regard. We will have to take some nominal service charge (from borrowers) for (administrative costs like) staff, electricity bills and stationery," said Deshmukh, adding that even if they were not allowed to charge this nominal service fee, they would continue giving out interest-free loans.
During Prime Minister Modi's trip to Saudi Arabia in April, the state-owned Exim Bank and the Islamic Corporation for the Development of the Private Sector (ICD), which is an arm of the Islamic Development Bank (IDB) group, had signed an agreement. The IDB later said it would open a branch in Modi's home state of Gujarat.
In 2015, a report by the RBI committee on 'Medium-term path on financial inclusion' "" led by Deepak Mohanty "" had noted that "One area that has not been adequately addressed is the role of interest-free banking in financial inclusion. Globally, interest-free banking, also known as Islamic banking, has witnessed a significant increase, especially in the wake of the financial crisis. According to Lagarde (2015), total Islamic finance assets are estimated at around $2 trillion, practically a ten-fold increase from a decade ago, and outperforming the growth of conventional finance in many places."
Though several Islamic credit cooperative societies are operating across the country for the last 30 years, no bank has been allowed to operate on the interest-free basis. But one will be mistaken if an Islamic bank and interest-free bank are construed to be one and the same. While interest-free banks merely avoid the element of interest, the Islamic banks are Shariah-compliant and do not finance businesses such as liquor, gambling, pork, manufacturing of arms and weapons and other harmful products which cause destruction and ruin the moral fibre of the society.
Meanwhile, the Jeddah based Islamic Development Bank (IDB) is giving the final touch before setting up operations in Prime Minister Modi's home state of Gujarat. It is expected to finance exports to many African countries and Central Asian states. Islamic finance is said to be one of the fastest growing industry which is expected to reach $ 3 trillion, according to a report in the Business World, by 2018.