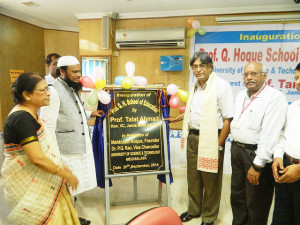 Guwahati: "North Eastern Universities should take the lead to start courses like Disaster Management, in order to sort out the problems of floods and earthquakes and to deal effectively with such Natural Disasters," said Prof Talat Ahmad, Vice Chancellor of Jamia Millia Islamia in Guwahati. He also said that NE states are full of potentials and opportunities which must be explored to the maximum extent.
"The development of a region mainly depends upon their education system. More importance must be given on the primary and basic education for which qualified trained teachers must be appointed. Government must emphasize on the right kind of practical training for the teachers," Ahmad said while inaugurating Prof. Qoumrul Hoque School of Education, a constituent college of University of Science and Technology, Meghalaya (USTM).
This school of education will be a catalyst in producing quality trained teachers in the region. He also said that he has been visiting North East for quite some time for his research work and projects and was delighted to see the efforts of a single person, Mahbubul Hoque, the Chancellor of USTM to make such a huge contribution in the field of education. He also assured that Jamia Millia Islamia will be in full collaboration and association with USTM in terms of manpower and other Academic and Research related activities. The School has got the approval from National Council for Teacher's Education (NCTE), ERC, Bhubaneswar to run B.Ed. Courses with an intake capacity of hundred which has been already filled up in the maiden year itself. USTM has planned to increase the intake to another hundred for the next year. The inauguration ceremony was followed by the release of USTM News Letter by the Chief Guest Prof. Talat Ahmad.