Rooftop solar panels will generate 300 units of electricity every day.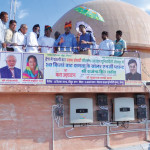 By A Staff Writer
Jodhpur: The 50kWh rooftop solar power plant by Maulana Azad University was inaugurated here on September 13, by Rajasthan Minister for Health and Wakf Mr. Rajinder Singh Rathore in the premises of the institutions run by Marwar Muslim Education and Welfare Society in Kamala Nehru Nagar. The plant will produce over 300 units of renewable power, around one-third that the university consumes, every day and will be functional for the next 30 years. The plant has been installed with an investment of Rs. 33 lakh, of which Rs. 11 lakh was received as subsidy from the Ministry of Renewable Energy, Government of India.
Speaking on the occasion, Mohamed Atique, General Secretary of the Society, said the huge number of institutions run by the Wakf income are a living testimony to the fact that Wakf resources, if tapped properly, could be used for the welfare and development of the community and the nation at large. He said the Plant is part of the Prime Minister 'Narendra Modi's Clean India""Green India' campaign.
The Plant was installed by the Birla Solar Project Company. The project details were presented by Company CEO Yogesh Birla.