Author Siraj Ahmed Jafferi hails from Raichur and works at Muscat
By A Staff Writer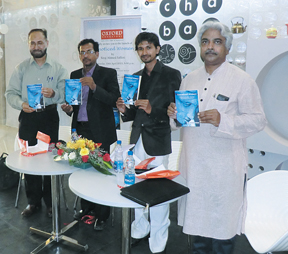 Bangalore: Unnoticed Woman, a novel by Siraj Ahmed Jafferi was launched here on April 13 at the Oxford Bookstore.
Jafferi, an MBA Graduate from Raichur is working in a commercial firm as purchase manager in Muscat. The Unnoticed Woman traces the marital career of a Muslim woman who undergoes travails and trauma of life in an extended family where dowry demands, taunt from in-laws, desire for a baby boy render her life hellish, all against Islam's prescription of dignity, equality and compassionate treatment of a wife.
The novel was jointly unveiled by Zafer Mohiuddin, architect and playwright and Maqbool Ahmed Siraj, journalist. The debut novel has been published by Power Publishers, Kolkata and is priced at Rs. 275.
Jafferi said women are subjected to ancient cultural practices that have evolved from past as if they were laws. They have hardly any choice in terms of their spouse and in deciding the course of the family's progress.
Maqbool Ahmed Siraj said the novel is appearing at a time when the civil society has begun demanding recognition of women's rights. He said customary laws and conventions do not offer women a fair deal and male gender enjoys a huge edge.
Zafer Mohiuddin who also hails from Raichur, said it was a rare feat for a youth from his town to come up with a novel in English.
Jafferi said though he had been mentally weaving the story for long many years, he began to pen it only after Delhi rape incident in which the life of a young woman was snuffed out.
The novel can be ordered by accessing www.purushottam-publishers.com, www.crossword.in. Author Siraj Ahmed Jafferi can be contacted at: [email protected] or Ph: 9164186354.