Afroz Alam Sahil's book on Sheikh Gulab, the man behind the Champaran Indigo movement, aims to set the history right.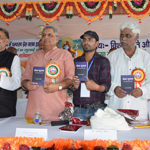 By Raqib Hameed Naik
West Champaran, Bihar: Twocircles.net Hindi editor, Afroz Alam Sahil has penned down a book on Sheikh Gulab, the main person behind the Indigo movement in Champaran during 1905-1909 and later a catalytic figure in organising the Champaran Satyagraha.
The Hindi book titled, 'Sheikh Gulab: Neel Andolan ke ek Nayak' (Sheikh Gulab: A Hero of Indigo Movement) has 96 pages with 132 references. The research book has been compiled after studying more than 150 books and papers.
Sheikh Gulab was born in 1857 in village Chand Barwa of Sathi block in Bettiah city of West Champaran district of Bihar. During the 19th century, farmers in Champaran were forced by Britishers to do indigo farming which was making their lands barren. They were paid very less for the produce. There were 66 different types of taxes imposed on peasants, besides other kinds of atrocities committed on them by the colonial powers.
Sheikh Gulab stood against the Britishers in 1905 by mobilising his relatives, friends and neighbours in the movement and later spreading it to the other parts of Champaran. He was jailed and tortured, and his land was confiscated by the Britishers for speaking against the colonial powers. Peer Mohammad Munis later mentored and guided him.
Sheikh Gulab has also played a pivotal role in bringing Mahatma Gandhi to Champaran to start his Satyagraha.
The book also contains the findings of W R Gourley committee report which was established by the British govt. in 1908 after the testimony of Sheikh Gulab to find out the allegation of excesses committed on the peasants and their grievances. The report was never released in the public domain and was kept confidential. When asked reasons behind launching the book at this point in time, Afroz Alam Sahil said, "Champaran Satyagraha has completed 100 years and we see that the State government along with the Centre is celebrating it on a large scale ,but what disappoints me is that nobody even knows the name of Sheikh Gulab.
It is an attempt at bringing back his identity."
The book was launched on July 7 in Bettiah city of West Champaran district and on July 8 in Motihari city of East Champaran district by Union Minister of Agriculture and Farmers Welfare, Radha Mohan Singh.