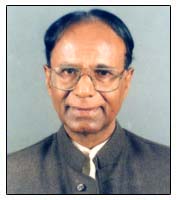 Bangalore: A book titled, Tall Islam and Short Muslims by former minister Prof. Mumtaz Ali Khan was released by Karnataka Governor, Mr. H. R. Bharadwaj at a brief ceremony at Raj Bhavan here on September 5. Published by Concept Publishing Company, New Delhi, the book deals with misperceptions about Islam among people consequent to deviations in practices by Muslims. It runs into 240 page and is priced at Rs. 700.
Speaking at the occasion, Prof. Khan who is a BJP MLC currently and was a minister for three and half years under the Yeddyurappa Ministry, said he had dealt with issues such as status and rights of women in Islam, marriage and divorce, rights of children, language, loan and interest, wealth generation, gambling and drinks, fatwas, violence and religious harmony where he has seen dichotomy between what Islam preaches and what Muslims practice. He said teachings of Islam in their pristine form were still alluring for the people, but the character of Muslims breeds repugnance.
Governor Bharadwaj said there must be an all-round effort to promote harmony in the society and people should not engage in hurtful talk about others' religions. He said Islam promoted love and he had extremely cordial relations with Muslims while living in Old Delhi for decades together. He attributed the divisive tendencies to modern communal and competitive politics.
Shri Shivarudra Swami of Beli Mutt highlighted the concept of equality and equity in Islam and the Prophet's life and said no religion preached hatred. Maulana Maqsood Imran of Jamia Masjid, Bangalore city also spoke at the occasion. Prof. Ziauddin Ahmed welcomed the gathering.
Prof. Mumtaz Ali Khan has taught rural sociology in the University of Agricultural Sciences, Bangalore for over two decades. He has authored 18 books on various aspects of Dalit and Muslims society and has been engaged in welfare activities through his Khawaja Gharib Nawaz Centre for Harmony and Development. He also runs the Salamat Kannada School in Chamundinagar area of Bangalore.