Saudis went all-out to make the pilgrimage hassle-free; Qataris barred from Hajj this year; Use of Mashaer Rail restricted to pilgrims from privileged nations.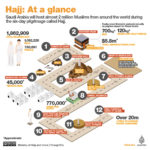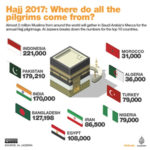 Makkah: Nearly two million pilgrims from around the world who converged in Makkah in Saudi Arabia for performance of Hajj-2017 may be leaving the Kingdom around the time you will be reading these lines. The pilgrimage which began on August 29 with the arrival of pilgrims at Mina, will be drawing towards its end.
The Saudi Ministry of Hajj had taken extraordinary steps to provide accommodation, comfort and security to the pilgrims who arrived from all corners of the world. The Jamarat area where stoning takes place, had seen new expansion to take as many as four million pilgrims at a time with four layers of bridges on top of each other besides the ground floor. The site had usually been the site of ghastly tragedies with pilgrims dying in stampede.
The authorities had restricted the use of Mashaer Railway (that takes pilgrims from Makkah to the pilgrim camps of Mina, Arafat and Muzadalifah) to only 350,000 pilgrims this year. The train tickets were issued to only pilgrims from GCC countries and those coming from the Western countries. Most of the Hajis from the Indo-Pak subcontinent were not able to avail the facility and had to be content with bus transport. The Makkah Regional Development Authority also made arrangement for sale of tickets for Mashaer Rail. Each of the pilgrim towns, i.e., Mina, Muzadalifah and Arafat had three stations each and tickets in distinct colour were issued to the passengers.
Several bridges had been provided with shades as the summer heat was at its peak during this year's Hajj season. Air ventilation had been improved in most of the tunnels that provided passage to pedestrian pilgrims who preferred to walk between the tent towns and Makkah during the core 5-day rituals.
Meanwhile, the General Command of Air Security has intensified air patrols in the skies over Makkah and Madinah, local media reported. Surveillance has been increased on routes from where people without legal permits for Hajj infiltrate into the pilgrims areas.
An Al-Jazeera report on August 26 said, the citizens and residents of Qatar had been barred from making pilgrimage this year. The Qatari Ministry of Awqaf and Islamic Affairs, which regulates and organises the annual Hajj for Qatari citizens and residents, announced it hadn't received responses from its Saudi counterpart on travel logistics or security guarantees. This followed Saudi Arabia's (and three other Arab nations') blockade of Qatar in June following Qatar's refusal to toe the Saudi dictates on the tiny sultanate's foreign policy. The official Qatar News Agency reported on August 22 that Qatar's religious authorities "did not find any cooperation or positive response from the Ministry of Hajj, which had led to confusion and suspension of the regulatory process for Qatar's pilgrims".
Saad Sultan al-Abdullah, director of international cooperation at Qatar's National Human Rights Commission, expressed concern that Muslims were being prevented from performing their religious duty.
Saudis who mobilize all their personnel and services for Hajj, had deployed 29,000 medical personnel for attending to the emergency cases. By August 26, around 18,000 pilgrims who needed emergency care had visited the clinics set up by the Health Ministry. These included the ones who were operated upon with 147 cases of cardiac catheterizations, seven open heart surgeries, 901 renal dialysis and 42 endoscopic procedures beside 1,400 surgeries. The patients received free services under the 'Save A Life' program. The Ministry had put 100 small ambulances that work as intensive care mobile units to handle emergencies and 80 high tech large ambulances.