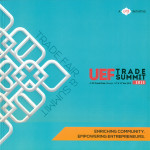 By A Staff Writer
Chennai: The United Economic Forum will hold its UEF Trade Summit on November 14 and 15 in Chennai. The summit will be held in Hotel ITC Grand Chola. Mr. Mufti Mohammed Sayeed, Chief Minister of Jammu and Kashmir will be the chief guest and Dr. Haseeb Drabu, the Finance Minister of Jammu and Kashmir and economic advisor to former Prime Minister Dr. Manmohan Singh will be among the prominent speakers.
In a press release, Dr. Kamal Sheriff, vice president of the UEF, said the summit is expected to be attended by about 600 delegates and several exhibitors will be setting up their stalls at the Trade Fair being held simultaneously.
Prominent businessmen and entrepreneurs will speak on topics like "Minority Community Status and Contribution in India and Tamilnadu", "Approach towards achieving Rs. 10,000 crore enhancement by UEF", "Emerging Business Opportunities in TN-Make in Tamilnadu", "Successful Indian Entrepreneurs Overseas", "Real Estate: Building the Nation and its Fruits", "Retail Industry: The Growth Wave", "Leather Industry: Opportunities in India", "Woman Entrepreneurs: Shrinking the Glass Ceiling", "Energy and Infrastructure", "Healthcare opportunities for Entrepreneurs", "Government of India support Schemes for Minority Entrepreneurs", "Islamic Banking and Finance as catalysts for building India""RBI's Perspective" etc.
Prominent speakers would include Adil Zainulbhai, President Quality Council of India (formerly McKinsey India chief); Mr. Ahmed R. Buhari, CEO, Coal and Oil Group LLC; Dr. Habil Khorakiwala, Chairman, Wockhardt Ltd; Mr. Irfan Razack, Chairman, Prestige Group, Bangalore; Mr. M. A. Yusufalli, Chairman, Lulu Group, Dubai; Mr. M. Rafeeq Ahmed, Chairman, Farida Group, Chennai; Mr. A. R. Rahman, Musician, Chennai; Dr. Yusuf K. Hamied, Chairman, Cipla Ltd; Irfan Abdul Razak Allana, Chairman, Allanasons; Dr. J. Sadakkadulla, Regional Chairman, RBI, for Punjan, Haryana, Himachal region; Gholamreza Ansari, Iranian ambassador to India; Dato Shaik Aqmal Allauddin, Managing director, ONE BPO.
The United Economic Forum was set up in Chennai by Dr. B. S. Abdul Rahman in 1979 to bring together businessmen, industrialists and young entrepreneurs, professionals and intellectuals. It is currently headed by Mr. Ahmed A. R. Buhari, founder President of CandO Group, the second largest importer of coal in India. He has set up the 1,200 MW integrated power plant with a capital outlay of approximately US $ 1.3 billion. It will soon be expanding its capacity to 1,600 MW by investing another US $ 2 billion.
Participation fee is Rs. 6,000 for non-member and Rs. 5,000 for members. More details can be had from www.unitedeconomicforum.org or Ph: 044-28270104 / 204.