New Delhi: Four Muslims, three of them female, have passed the Uttarakhand Judicial Service examination. Results were announced in December of last year. The fact that all three Muslim females are from rural areas makes them unique. The third girl is from Sarai village in Haridwar, while the other two are from Shahpur and Badhi villages close to Rishikesh. Ayesha Farheen, Gulstan Anjum, and Jahan Ara Ansari are the three girls from the same district Haridwar. It's also important to note that none of the three villages offers a high school education.
17 candidates who were successful in the December Uttarakhand Judicial Service exam were appointed as new Civil Judges (Junior Division). Three of the four of them are female and are from the Muslim community. In the past, 19 Muslim girls were appointed as judges in Rajasthan and Uttar Pradesh, and Maharashtra respectively.
Ayesha Faraheen has achieved a lot, especially for a country girl. She lives in Shahpur village, which is five kilometers from Roorkee. Her mother never attended school, while her father just completed the fifth grade. He has four kids and a four-acre agricultural property. In the village, there is no education beyond the fifth grade. Ayesha is the first girl in her family—which includes 8 lawyers—to pursue legal studies. Ayesha's accomplishment, which places her in ninth place, is noteworthy because it took her only six months of preparation to get there. She had never tried before. She is a young girl who frequently assisted her mother with household duties. Ayesha Farheen exclaims, "I think it is the effect of all the prayers."
I bore all the abuses directed at me for studying abroad, but I am clean and honest because Allah has treated me fairly. I've never met a judge before today, but I'll do my work from the law book in a very professional manner from now on, she promises. There were only two things in my life that were important: my books and my family. I believe that girls should be given more opportunities to advance in their studies. Nobody can justify their failure.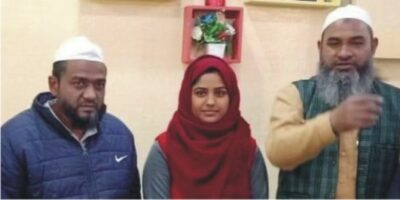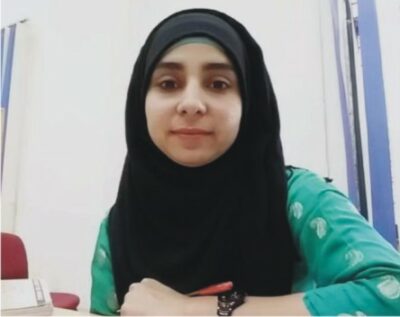 Sharaft Ali is the name of Ayesha's father. "My daughter has done a tremendous job," he says. As I could only study the fifth, I just chose to let her go. Her mom only read the Quran. The village lacks an English-language school. She was then moved to Allahabad, Roorkee, and a neighbouring village for additional study. Her next stop was Aligarh Muslim University.
One of the most underdeveloped villages in the Roorkee district of Uttarakhand is Shahpur. Ayesha is the village girl with the highest level of education. She graduated from Aligarh Muslim University with an LLM. Ayesha astoundingly passed the civil judge exam for the Uttarakhand Judicial Service after only six months of study. This year's shutdown prevented her from adequately preparing it. She has performed all duties associated with being the oldest daughter at this period. She has never shied away from household duties with the justification that she was studying. Together with my mother, I cleaned, wiped, washed clothes, and cleaned wheat.
The youngest child of Hussain Ahmed, a social worker from Badhi village, Gulastan Anjum, also passed the exam for the junior division of the Uttarakhand Judicial Service Civil Judge. The family was overjoyed. Hussain Ahmed said that his daughter has given him and the rest of the family cause for celebration. He advocates enhancing girls' education in the Muslim community. Gulstan claims that since Inter, becoming a judge has been Papa's lifelong ambition. …… And others………………. Gulstan received a gold award from DAV for his LLB in 2016. She now gives appreciation to her professors and family for helping her get chosen for the judicial service.
She claims that the victim would receive justice for anyone seeking redress in her court. She goes on to say that educating girls is crucial. If daughters are literate, society will be safe. Success requires constant effort, and success is ensured by overcoming setbacks. Asad, a PCS officer from the 2015 batch assigned to the GST department in Haridwar, is Gulastan's brother. In MA, her sister Zeenat won a gold medal. She runs a school in Roorkee.
The success of Jahan Ara Ansari is extremely amazing considering that she studied at home without any tutoring. Jahan Ara first completed his high school education in Luxor, followed by his intermediate education in Jwalapur, then his LLB in Dehradun. She then completed his journalism diploma from here after that. She had first intended to work in journalism, but after watching Muslim women succeed as judges in Uttar Pradesh, Rajasthan, and Uttarakhand, she decided to prepare at home instead, and she is now a judge herself. Shahadat Hussain, the father of Jahan Ara, works in the agriculture division.
It is a coincidence that none of the parents of the three Uttarakhand-born girls who are serving as judges this time are highly educated and that their fathers are farmers. Even mothers did not attend school.
Shahadat Hussain responds, "You are right, but we cannot stay like this forever," when this is brought up to him. We are fully aware that only education has the power to alter our destiny. There is a policewoman named Shahjahan Ansari who used to hear about her here in Dehradun. They gave us the impression that our daughter could do anything by reading and writing, thus I had a dream that was realized by my daughter. Jahan Ara is the name of my daughter, by the way.
(Source: Qaumi Awaaz)