What seemed like an impossible obstacle turned into a great chance for Hiranya to remember God and to grow and become a more confident person!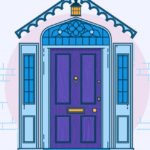 By Hema
It was a tough period for Hiranya. Her maternal grandmother, who was her inspiration, friend, philosopher and guide, had left this world a month earlier. And then Hiranya had undergone surgery for her deformed fingers as per her granny's request. She needed to wear a support brace for at least three months and take medicines, which made her drowsy and dizzy. This compounded the deep grief she had had with the departure of her granny.
Hiranya's granny had taught her many things, like stitching, cooking, speaking different languages and being independent. So, it was easy for Hiranya to manage many things by herself now, despite the state of her fingers. But there was one thing that she thought she couldn't do""she thought she just wouldn't be able to lock the main door of her house, for which she could use just one hand of hers that worked. She feared that she might injure her area of surgery if she tried to do so. So, she sought the help of an aunt who lived next door to lock the door for her when she went out to work every morning.
This went on for some days. One day, her aunt was in an irritated mood and began to grumble about the 'burdensome chore' of having to lock Hiranya's door. This made Hiranya very sad. Her grandmother had pampered her all these years even as she had taught her many things. Tears started rolling down as she remembered her granny's love for her.
Just then, Hiranya's granny's sister spotted her and shouted out: "Why are you crying, child? Can't you try to lock the door yourself? Why should you depend on someone else to do that?"
Now, this was like adding salt to injury to Hiranya's hurt. But just then Hiranya was led to think that this all had happened because perhaps God wanted her to learn some lessons of life in this manner""through her aunt's irritation and her granny's sister's words.
Hiranya rushed towards the door, telling herself that she would manage to lock it, come what may, even if it meant hurting her fingers in the process. To her great surprise, she succeeded in her act, which gave a great boost to her morale. She was thrilled that her granny's sister's remark had goaded her to realize how capable she was and thanked God profusely for this wonderful learning opportunity.
What seemed like an impossible obstacle thus turned into a great chance for Hiranya to remember God and to learn, improve, grow and become a more confident person!
That's what the many challenges we face in life-on an everyday basis-actually are-opportunities!