The Fortnightly English Journal announces Closure after Publishing for 17 Years.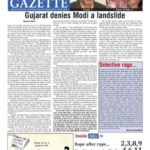 By A Staff Writer
New Delhi: Milli Gazette, English fortnightly published from New Delhi announced closure of the magazine after being published for 17 years. Editor Zafrul Islam Khan said mounting financial losses had left no scope for him to continue publication any further. Appeals for help to sustain the journal evoked little response. The last issue came out in the second half of December 2016.
The bold and courageous fortnightly known for its incisive writings, used to bring out substantial information on Muslim situation in India and took up issues that were either ignored or suppressed by the national media. Though run on a shoestring budget, it often took up special reporting deputing writers to probe news planted by interested quarters.
Editor Zafrul Islam Khan said he was left with no option but to close down the journal as losses had piled up over the years. He said while Muslim leaders often spoke about the necessity of a community newspaper, in reality no one came to help his organization and the journal, when appeals were sent to them through personal messages. "It seems the Muslim millat had priorities other than the media and voices that spoke about the necessity of the community media were in the nature of public posturing," he asserted.
He said, "We often took extraordinary effort to unearth facts and debunk propaganda, yet the community leaders and organization remained deaf to our struggles and had no time and resources to devote for a media that reported their issues and travails sensitively and diligently". He pointed out that Muslim organizations were wary of thinking big and focusing on larger issues responsible for their plight and were engaged in furthering their sectarian agendas.
Dr Zafrul Islam said, most community organizations were headed by men who were in their 70s or 80s, while the world nations were putting youth in the forefront and in the saddle of leadership. "This essentially had an impact on the quality of leadership, priority of issues and nature of action desired to grapple with issues. Such leaders loathe taking risks,' he added.
Mr. Khan said he would now take up work on publishing a White Paper on Terrorism in the country which he proposed to do a few years ago, but could not proceed due to paucity of time.